E-book
The New Wealth Management: The Financial Advisor's Guide to Managing and Investing Client Assets
ISBN: 978-1-118-03691-4
480 pages
March 2011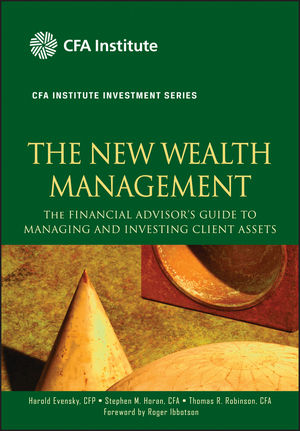 Mainstay reference guide for wealth management, newly updated for today's investment landscape
For over a decade, The New Wealth Management: The Financial Advisor's Guide to Managing and Investing Client Assets has provided financial planners with detailed, step-by-step guidance on developing an optimal asset allocation policy for their clients. And, it did so without resorting to simplistic model portfolios, such as lifecycle models or black box solutions. Today, while The New Wealth Management still provides a thorough background on investment theories, and includes many ready to use client presentations and questionnaires, the guide is newly updated to meet twenty-first century investment challenges. The book

Includes expert updates from Chartered Financial Analyst (CFA) Institute, in addition to the core text of 1997's first edition endorsed by investment luminaries Charles Schwab and John Bogle
Presents an approach that places achieving client objectives ahead of investment vehicles
Applicable for self-study or classroom use
Now, as in 1997, The New Wealth Management effectively blends investment theory and real world applications. And in today's new investment landscaped, this update to the classic reference is more important than ever.
See More
Acknowledgments ix
Foreword xi
Preface xiii
CHAPTER 1 The Wealth Management Process 1
CHAPTER 2 Fiduciary and Professional Standards 13
CHAPTER 3 Client Goals and Constraints 33
CHAPTER 4 Risk Is a Four-Letter Word 55
CHAPTER 5 Data Gathering and Analysis 75
CHAPTER 6 Client Education 103
CHAPTER 7 Mathematics of Investing 121
CHAPTER 8 Investment Theory 149
CHAPTER 9 Asset Allocation 179
CHAPTER 10 Portfolio Optimization 193
CHAPTER 11 Taxes 233
CHAPTER 12 Retirement Planning 267
CHAPTER 13 Investment Policy Statement 313
CHAPTER 14 Portfolio Management 341
CHAPTER 15 Performance Appraisal and Evaluation 373
CHAPTER 16 Selecting Investment Managers 393
CHAPTER 17 Philosophy, Process, and People 421
About the Authors 439
About the CFA Institute Investment Series 441
About the CFA Program 445
Index 447
See More
Harold Evensky CFP
, is President of Evensky & Katz, a nationally recognized wealth management firm. Acknowledged by
Financial Planning, Financial Planning Professional, Investment News
, and
Worth
as an industry leader, he served as chair of the TIAA-CREF Institute Advisory Board and is a member of the American Bar Association. In 1999, he was awarded the Dow Jones Investment Advisor Portfolio Management Award for Lifetime Achievement.
Stephen M. Horan, PhD, CFA, manages professional education and private wealth management content for CFA Institute members. He has served as both an editorial board member and abstractor for the CFA Digest and as an ad-hoc reviewer for the Financial Analysts Journal. He holds a PhD in finance, publishes frequently in academic and professional journals, and has authored several books. Prior to joining the CFA Institute, he was a professor of finance at St. Bonaventure University and principal of Alesco Advisors LLC.
Thomas R. Robinson, CFA, CFP, is Managing Director in the Education Division of the CFA Institute, where he leads and develops the teams responsible for producing and delivering educational content and examinations to candidates, members, and other investment professionals, including those affiliated with the CFA Program, CIPM Program, and Lifelong Learning.
See More
More in this series