E-book
Phonics Pathways Boosters!: Fun Games and Teaching Aids to Jump-Start Reading
ISBN: 978-1-118-03722-5
96 pages
May 2011, Jossey-Bass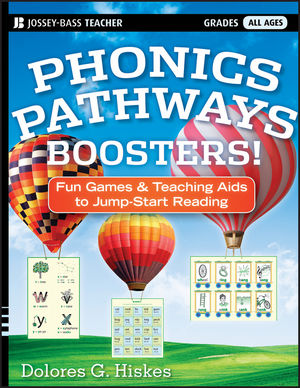 Based on the best-seller Phonics Pathways, a complete approach to teaching phonics and early reading
Dolores Hiskes has developed a wealth of helpful teaching aides based on her best-selling book Phonics Pathways. This booster pack includes 46 double-sided flash cards that illustrate the sounds and spelling patterns of the English language; Speaking Pathways, a lively 35-minute audio CD that demonstrates the sounds of spoken English; and three fun phonics games: WordWorks, which reviews and reinforces phonics reading skills, Blendlt, which reinforces knowledge of beginning spelling patterns, and The Train Game, which features individual "train car" cards that kids put together to make longer words.
Companion CD demonstrates the sounds of spoken English
Contains games that have been classroom-tested and proven effective
Offers aides that are at once challenging and a fun way to learn reading skills
These powerful phonics teaching tools can be used with beginning readers, English language learners, dyslexic students, or children with attention deficits.
See More
Introduction.
Sound-Spelling Flash Cards.
Instructions.
Flash Cards.
BlendIt!
Instructions.
Cards.
Playing Boards.
WordWorks.
Instructions.
Cards.
The Train Game.
Instructions.
Train Cars.
Speaking Pathways.
Introduction.
CD (in the back cover of the book).
See More
Using her materials, Dolores G. Hiskes has implemented a number of school and community tutoring programs, such as the highly touted YES Reading Center in Palo Alto, CA. She has tutored reading for over thirty years, and trained teachers from all over the world. She also has collected classic old reading and spelling texts from English-speaking countries worldwide, including New Zealand, Australia, The United Kingdom, and Canada, which she incorporates into her instruction. Well-published in professional journals and a winner of numerous honors, she publishes a free on-line newsletter about teaching reading, called Phonics Talk (www.dorbooks.com). She has trained teachers in New Zealand, Australia, the United Kingdom, and Canada, as well as throughout the United States.
See More