E-book
Facebook For Dummies, Pocket Edition, Pocket Edition
ISBN: 978-1-118-03778-2
144 pages
December 2010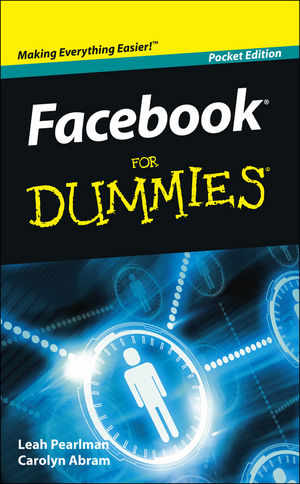 Sign up, build your Profile, and find friends!
Join the Facebook fun! These experts show you how to set up your Profile, protect your privacy, find friends and family members, join and create Groups and plan your next big Event. Here's just what you need for a safe and happy Facebook Experience.
Open the book and find:
Advice for creating the prefect Profile
How to upload and share photos, videos, and notes
Tips on keeping in touch
Privacy controls and how to use them
How to use Facebook Mobile to stay connected anywhere
See More
Introduction.
Why a Book for Dummies?
About This Book.
Icons Used in This Book.
Conventions Used in This Book.
Part I: Adding Your Own Face to Facebook.
What You Can Do on Facebook.
What You Can't Do on Facebook.
How Facebook Is Different from Other Social Sites.
Signing Up.
Adding your current city.
Joining Networks.
Setting Up Your Profile.
Getting Verified.
Part II: Building Out Your Profile.
Creating a Profile for Yourself.
Building a Profile for Promotion.
Sharing Yourself with Family, Friends, and the World.
Know your options.
Your Profile is in the eye of the beholder.
Contact information.
Your birthday.
The Information Box.
Education and Work history.
Profile picture.
Part III: Finding Facebook Friends.
What Is a Facebook Friend?
Discovering the Facebook Friend Philosophy.
Choose your friends wisely.
It's quality, not quantity.
If Only Real Life Had a Friend Finder.
Find What You're Looking For: Search.
Creating Friend Lists.
Part IV: Keeping Up with Your Friends.
Just Between You and Me.
Messages.
Share.
Chat.
Poke.
Requests.
Public Displays of Affection.
The writing's on the Wall.
Care to comment?
Broader audience.
Part V: Privacy and Safety on Facebook.
Seeing the Win-Win of Privacy.
Getting Familiar with Your Privacy Options.
The Privacy control.
Basic Directory.
Block lists.
The Application Privacy page.
Connecting and privacy.
Network privacy.
Custom-made privacy.
Album and Video privacy.
Photos and Videos of You privacy.
Taking Personal Responsibility for Safety.
Remembering That It Takes a Village to Raise a Facebook.
Peeking Behind the Scenes.
Part VI: Facebook Applications.
Uploading Photos and Videos.
Uploading photos.
Uploading video.
Recording video.
Editing and Tagging Photos and Videos.
Editing and tagging photos.
Editing and tagging videos.
Notes.
Writing a note.
Formatting and tagging Notes.
Got a Question about Questions?.
Part VII: Getting Organized with Groups and Events.
Getting Going with Groups.
Joining a Group.
Anatomy of a Group.
Adding your two cents (or more).
Finding the Group for You.
Reporting Offensive Groups.
Creating Your Own Group.
Managing Your Group.
Inviting friends to join.
Uploading a picture.
Designating Group officers.
Managing your Group member list.
Getting Going with Events.
Anatomy of an Event.
Searching Events.
Creating Your Own Events.
Big Events.
Quick Events.
Managing your Event.
Part VIII: Facebook On the Go.
Is That Facebook Mobile Web in Your Pocket . . . ?
Getting started.
Mobile uploads.
Mobile texts.
What's all the buzz about?
Using Facebook Mobile Web.
Mobile Home.
Mobile Profile preview.
Mobile Friends List.
Mobile Inbox.
Facebook Mobile for the touch screen.
Part IX: Ten Questions That Leah and Carolyn Get a Lot.
Is My Computer Infected with a Virus?
Do People Know When I Look at Their Profiles?
I Have a Problem with My Account — Can You Help Me?
What Do I Do with Friend Requests I Don't Want to Accept?
What's the Difference Between Facebook, MySpace, Twitter, and LinkedIn?
I Keep Getting Invites for Those App Thingies — Should I Accept Them?
How Do I Convince My Friends to Join Facebook?
What if I Don't Want Everyone Knowing My Business?
I Heard Facebook Owns Everything I Put on Its Site — True?
Does Facebook Have a Feature That Lets Me Lock Myself Out for a Few Hours?
See More
Leah Pearlman
is a current Facebook Product Manager.
Carolyn Abram is a former Facebook Product Manager. Both helped create and launch many of the site's key features.
See More