Bergin and Garfield's Handbook of Psychotherapy and Behavior Change, 6th Edition
ISBN: 978-1-118-03820-8
864 pages
January 2013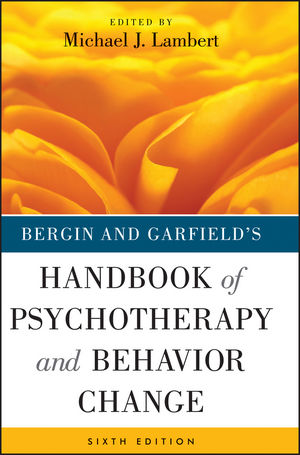 Praise for Bergin and Garfield's Handbook of Psychotherapy and Behavior Change, Sixth Edition
"Not only is this a unique resource, it is the only book that all practitioners and researchers must read to ensure that they are in touch with the extraordinary advances that the field has made over the last years. Many of us have all five previous editions; the current volume is an essential addition to this growing, wonderful series."
—Peter Fonagy, PhD, FBA, Freud Memorial Professor of Psychoanalysis and Head of the Research Department of Clinical, Educational and Health Psychology, University College London
"As either researcher or clinician living in the contemporary world of accountability, this invaluable edition of the Handbook is a must for one's professional library."
—Marvin R. Goldfried, PhD, Distinguished Professor of Psychology, Stony Brook University
The classic reference on psychotherapy—revised for the twenty-first century
Keeping pace with the rapid changes that are taking place in the field, Bergin and Garfield's Handbook of Psychotherapy and Behavior Change, Sixth Edition endures as the most important overview of research findings in psychotherapy for professionals, academics, researchers, and students. This bestselling resource presents authoritative thinking on the pressing questions, issues, and controversies in psychotherapy research and practice today.
Thorough and comprehensive, the new edition examines:
New findings made possible by neuro-imaging and gene research
Qualitative research designs and methods for understanding emotional problems
Research in naturalistic settings that capitalizes on the curiosity of providers of services
Practice-relevant findings, as well as methodological issues that will help direct future research
See More
List of Contributors vii
Preface xi
PART I HISTORICAL, METHODOLOGICAL, AND CONCEPTUAL FOUNDATIONS 1
CHAPTER 1 Introduction and Historical Overview 3
Michael J. Lambert
CHAPTER 2 Methodology, Design, and Evaluation in Psychotherapy Research 21
Jonathan S. Comer and Philip C. Kendall
CHAPTER 3 Qualitative Research: Methods and Contributions 49
John McLeod
CHAPTER 4 Practice-Oriented Research: Approaches and Applications 85
Louis Castonguay, Michael Barkham, Wolfgang Lutz, and Andrew McAleavey
CHAPTER 5 Measuring Change in Psychotherapy Research 134
Benjamin M. Ogles
PART II EVALUATING THE INGREDIENTS OF THERAPEUTIC EFFICACY 167
CHAPTER 6 The Efficacy and Effectiveness of Psychotherapy 169
Michael J. Lambert
CHAPTER 7 The Client in Psychotherapy 219
Arthur C. Bohart and Amy GreavesWade
CHAPTER 8 Therapist Effects: Findings and Methods 258
Scott A. Baldwin and Zac E. Imel
CHAPTER 9 Psychotherapy Process-Outcome Research 298
Paul Crits-Christoph, Mary Beth Connolly Gibbons, and Dahlia Mukherjee
PART III MAJOR APPROACHES 341
CHAPTER 10 Behavior Therapy With Adults 343
Paul M. G. Emmelkamp
CHAPTER 11 Cognitive and Cognitive-Behavioral Therapies 393
Steven D. Hollon and Aaron T. Beck
CHAPTER 12 Research on Dynamic Therapies 443
Jacques P. Barber, J. Christopher Muran, Kevin S. McCarthy, and John R. Keefe
CHAPTER 13 Research on Humanistic-Experiential Psychotherapies 495
Robert Elliott, Leslie S. Greenberg, Jeanne Watson, Ladislav Timulak, and Elizabeth Freire
PART IV RESEARCH ON APPLICATIONS IN SPECIAL GROUPS AND SETTINGS 539
CHAPTER 14 Psychotherapy for Children and Adolescents 541
John R. Weisz, Mei Yi Ng, Christopher Rutt, Nancy Lau, and Sara Masland
CHAPTER 15 The Effectiveness of Couple and Family-Based Clinical Interventions 587
Thomas L. Sexton, Corinne Datchi, Lauren Evans, Julie LaFollette, and Lauren Wright
CHAPTER 16 Change Mechanisms and Effectiveness of Small Group Treatments 640
Gary M. Burlingame, Bernhard Strauss, and Anthony S. Joyce
CHAPTER 17 Behavioral Medicine and Clinical Health Psychology 690
Timothy W. Smith and Paula G. Williams
CHAPTER 18 Combining Medication and Psychotherapy in the Treatment of Major Mental Disorders 735
Nicholas R. Forand, Robert J. DeRubeis, and Jay D. Amsterdam
CHAPTER 19 Training and Supervision in Psychotherapy 775
Clara E. Hill and Sarah Knox
Author Index 813
Subject Index 835
See More
MICHAEL J. LAMBERT, PhD, holds an Endowed Chair in Psychology at Brigham Young University where he teaches several clinical psychology courses while maintaining a private practice. His research, conducted over more than thirty years, emphasizes psychotherapy outcome, process, and the measurement of change. He is the coauthor of the Outcome Questionnaire, a measure of treatment effects.
See More
"Few fields in psychology can boast of a definitive volume which, with each new addition, successfully integrates comprehensively described research from its point of origin. For the sixth time, Michael Lambert and the contributors have succeeded to present an up to the minute synthesis, a triumph of economic yet in-depth analysis. Not only is this a unique resource, it is the only book that all practitioners and researchers must read to ensure that they are in touch with the extraordinary advances that the field has made over the last years. Many of us have all five previous editions; the current volume is an essential addition to this growing, wonderful series."
—
Peter Fonagy
, PhD FBA, Freud Memorial Professor of Psychoanalysis and Head of the Research, Department of Clinical, Educational and Health Psychology, University College London
"This is clearly not a book you will open and skim through, but you definitely would want to own.  Like the other 5 classic volumes before it, you will consult it time and time again. In the more than 1300 pages of this 6th edition of the Handbook, you will find a compilation of reviews that bring you up to date on virtually all the therapy research that has been carried in the past decade.  As either researcher or clinician living in the contemporary world of accountability, this invaluable edition of the Handbook is a must for one's professional library."
—Marvin R. Goldfried, PhD, Distinguished Professor of Psychology, Stony Brook University
See More
Instructors Resources
Request a print evaluation copy
Contact us

See More
See Less
Learn more about