E-book
Effective Online Teaching: Foundations and Strategies for Student Success
ISBN: 978-1-118-03880-2
284 pages
June 2011, Jossey-Bass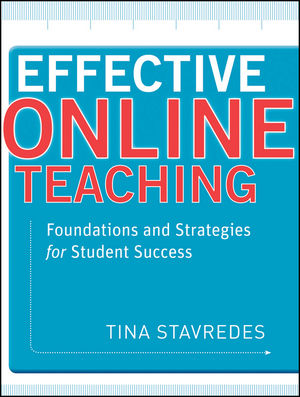 In order to enable the widespread adoption of online education, faculty must be trained in the pedagogy of teaching in this medium. This book offers an understanding of how cognition and learning theory applies to an online learning environment. Through behaviorist, constructivist, and cognitive approaches it provides strategies for incorporating this knowledge into effective learner-centered teaching practice. Each chapter contains reflection and discussion questions which can be used for self-directed learning. It is ideal for new instructors or those new to online teaching.
See More
Exhibits and Figures.
Preface.
About the Author.
Part 1 Profile of the Online Learner.
1 Characteristics of the Online Learner.
2 Key Learning Attributes of Adults.
3 Challenges That Affect Learners' Persistence.
Part 2 Foundations of Cognition and Learning.
4 Learning Theory.
5 Understanding Cognition and Learning.
6 Motivation Theory.
Part 3 Cognitive Strategies to Support Learners' Thinking.
7 Procedural Scaffolding.
8 Metacognitive Scaffolding.
9 Conceptual Scaffolding.
10 Strategic Scaffolding.
Part 4 Developing Cognitive, Social, and Teaching Presence Online.
11 Developing Cognitive Presence Through Active Learning Strategies.
12 Establishing Social Presence Through Learner-to-Learner Collaborative Strategies.
13 Establishing Instructor Presence Through Instructor-to-Learner Interaction Strategies.
14 Communication Tools to Support Cognitive, Social, and Teaching Presence.
Part 5 Strategies for Managing Your Online Course.
15 Strategies for Managing your Online Teaching Activities.
16 Strategies for Managing Behavioral Issues.
17 Strategies for Managing Ethical and Legal Issues.
18 Developing an Online Teaching Philosophy.
References.
Index.
See More
Tina Stavredes is the chair of the psychology program in the School of Undergraduate Studies at Capella University, where she works to manage and train a high-performing team of online faculty. She previously served as Capella's director of curriculum and was responsible for creating the office of Curriculum Development. Prior to joining Capella, Stavredes worked as manager of academic technology support for the University of Minnesota's College of Education and Human Development.
See More
Learn more about