E-book
Just Enough: Tools for Creating Success in Your Work and Life
ISBN: 978-1-118-03989-2
291 pages
December 2010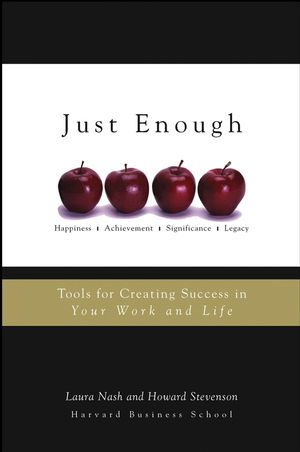 In Just Enough, top Harvard professors offer a revealing, research-based look at the true nature of professional success, helping people everywhere live more rewarding and satisfying lives. True professional and personal satisfaction seems more elusive every day, despite a proliferation of gurus and special methods that promise to make it easy. They conclude that many of the problems of success today can be traced back to unrealistic expectations and misconceptions about what success is and what constitutes it. The authors show where the happiest and most well-balanced among us are focusing their energy, and why, to help readers find more balance and satisfaction in their lives.
See More
Preface.
Acknowledgments.
PART ONE: MOVING TARGETS.
1. Stress! Excess! Success?
2. The Dangers of Going for the Max.
3. The Satisfactions of Just Enough Success.
PART TWO: THE KALEIDOSCOPE STRATEGY.
4. Your Success Profile.
5. Who Are You? And Why Are You Doing That?
6. Complex Patterns in Real Life.
PART THREE: JUST ENOUGH.
7. Making Successful Choices.
8. Further Calibrations of Enough.
9. Just Enough for a Lifetime.
Epilogue.
Notes.
About the Authors.
Index.
See More
LAURA NASH is a Senior Research Fellow at Harvard Business School. She is a leading authority in the field of business ethics and has written many books on the subject, including Good Intentions Aside and Church on Sunday, Work on Monday.
HOWARD STEVENSON is Sarofim-Rock Professor of Business Administration and Senior Associate Dean for External Relations at Harvard Business School. He is the author or coauthor of six books and his papers have appeared in such publications as Harvard Business Review, Sloan Management Review, Journal of Business Strategy, and Strategic Management Journal, among others.
See More