E-book
It's Not Where You Start, It's Where You Finish!: The Success Secrets of a Top Member of the Mary Kay Independent Sales Force
ISBN: 978-1-118-04037-9
208 pages
December 2010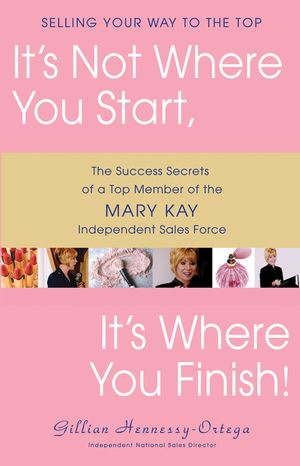 PRAISE FOR It's Not Where You Start, It's Where You Finish!

"Along her journey, [Hennessy-Ortega] has inspired, motivated, and encouraged thousands of women to believe they too can turn their dreams and goals into realities. You will love this book; it will produce incredible results in your life."
--Rena Tarbet, Independent Senior National Sales Director Mary Kay Inc.

"With a refreshing style all her own, Gillian Hennessy-Ortega uses her down-to-earth wit and wisdom to ignite your belief in what's possible, raise your level of expectation for your future, recognize your potential, and empower you to take a step ahead of the crowd and into a lifetime of success. A must-read for anyone committed to living their dreams!"
--Lisa Diane, author, When You Can Walk on Water Why Take the Boat?

"Gillian inspired me to reach for the level of excellence I had dreamt of. This book will encourage you, at all levels of your life, to reach for your highest accomplishments. You won't be able to put this book down. Inspiring!"
--Albert Pujols, First Baseman, St. Louis Cardinals 2001 National League Rookie of the Year

"In It's Not Where You Start, It's Where You Finish!, Gillian shares the nuggets of truth that ensure both starting and finishing with results and excellence. As someone who uniquely knows what it means to live the American Dream, she has made herself a master of life and business. Now, as master teacher, she is passing it on to you."
--Pamela Waldrop Shaw, author, Design Your Life 90-Day Planner Independent National Sales Director, Mary Kay Inc.

"Gillian inspires people to reach farther and stretch beyond the comfort zone and into greatness. She has practical, straightforward ideas and tools to help any organization or individual move to the next level of success. I would recommend this book to anyone who desires success in their life."
--Guy F. Hulen, Director of Human Resources Hong Kong Shanghai Banc Corp. (HSBC)
See More
Foreword.
Preface.
Acknowledgments.
PART I: FROM IRELAND TO AMERICA.
Chapter 1: Taking Charge of My Life.
PART II: THE THREE KEYS TO PERSONAL EXCELLENCE.
Chapter 2: Respect.
Chapter 3: Rejoice.
Chapter 4: Reach!
PART III: THE TEN PRINCIPLES FOR SALES SUCCESS.
Chapter 5: Think Like A Champion.
Chapter 6: Discipline Creates Excellence.
Chapter 7: I Can!
Chapter 8: Think Positive . . . Live Positive.
Chapter 9: Turn Defeat into Success.
Chapter 10: Integrity.
Chapter 11: Discover the Power of Your Dream.
Chapter 12: Avoid Sabotaging Yourself.
Chapter 13: Perseverance.
Chapter 14: No Excuses.
PART IV: CLOSING COMMENTS.
Chapter 15 God, Family, and Work.
Index.
See More
GILLIAN HENNESSY-ORTEGA is one of the top National Sales Directors at Mary Kay Inc. She is a sought-after speaker both within the Mary Kay organization and for many other organizations as well. She not only mentors her sales team of more than 2,000 women, but also speaks directly to more than 25,000 Mary Kay personnel a year.
See More