E-book
Mac at Work
ISBN: 978-1-118-04319-6
368 pages
December 2010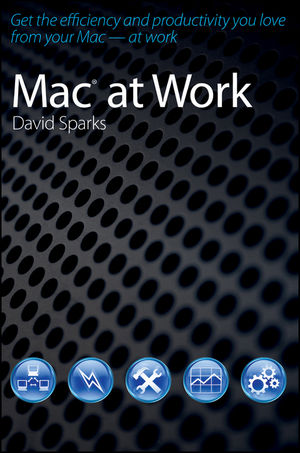 Bridge the gap between using a Mac at home and at the office
Now that you love your Mac at home, you want to use one at the office without missing a beat of productivity or professionalism. This unique guide shows you how.  You'll find best Mac business practices for handling word processing, spreadsheet and presentation creation, task and project management, and graphics. The book also explores topics such as hardware maintenance, how to synchronize with multiple computers, data backup, and communication with Windows networks.
Covers the nuts and bolts of using a Mac at work, including synchronizing with multiple computers, backing up data, and communicating with Windows networks
Goes beyond simple coverage of Microsoft Office or iWork to show you how to professionally create and interact with typical office systems and documents
Provides best software and best practices for creating and using spreadsheets, word processing documents, and slide presentations on a Mac
Gives you helpful guidelines and suggestions that can be lacking in an office where the IT department is focused primarily on PCs
Find out the best ways to use your Mac in the office and get more productive than ever!
See More
Introduction.
Part I: Mac Fundamentals.
Chapter 1: A Tour of the Mac.
Chapter 2: Backing Up.
Chapter 3: Useful Utilities.
Part II: Communications and Connections.
Chapter 4: The Internet and Your Mac 45
Chapter 5: Using E-mail 59
Chapter 6: Contacts and Calendars.
Chapter 7: Macs and Mobile Devices.
Chapter 8: Talking to Your Mac.
Part III: Basic Business.
Chapter 9: Task Management.
Chapter 10: Notes and Outlines.
Chapter 11: Word Processing.
Chapter 12: Managing PDF Files.
Chapter 13: Graphics for Business.
Chapter 14: Presentations.
Part IV: Advanced Business.
Chapter 15: Spreadsheets.
Chapter 16: Databases.
Chapter 17: Project Management.
Chapter 18: Billing and Invoicing.
Chapter 19: The Paperless Mac.
Part V: Advanced Topics.
Chapter 20: Networking.
Chapter 21: Synchronization 281
Chapter 22: Windows on Your Mac.
Chapter 23: Security.
Chapter 24: Mac Automation.
Part VI: Appendixes.
Debunking Myths about Macs.
Index.
See More
David Sparks is a California trial attorney who finds his Mac a competitive advantage. He's a regular faculty member for the American Bar Association's annual TechShow, a frequent lecturer at the Macworld Conference and Expo, editor of www.MacSparky.com (where he writes about Apple technology and productivity), and a cohost of the popular "Mac Power Users" podcast.
See More