The New Gold Standard: Rediscovering the Power of Gold to Protect and Grow Wealth
ISBN: 978-1-118-04322-6
Hardcover
204 pages
June 2011
US $39.95

Add to Cart
This price is valid for United States. Change location to view local pricing and availability.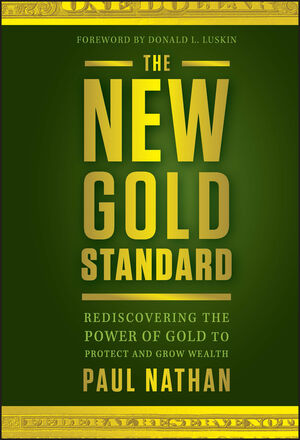 Other Available Formats:
E-book
August 08, 2011
The New Gold Standard
Connect with Wiley Publicity
As confidence in the U.S. dollar approaches an all-time low, the price of gold continues to soar with no end in sight. For the first time in nearly a century, the question of whether to return to the gold standard is being hotly debated in both the press and academic circles. It isn't hard to see why: in the wake of the global credit crisis and successive rounds of quantitative easing, nervous investors have begun seeing the specter of Weimar-era hyperinflation looming around every corner. But can restoring the gold standard really bring sustained stability to the global economy as its advocates contend, or will it, as its detractors insist, only serve to put the brakes on economic growth?
In his new book, The New Gold Standard (Wiley; June 2011), author Paul Nathan believes the question of whether or not governments decide to make the move to a gold standard has been made irrelevant by the new international gold rush. The market has spoken, and, like it or not, we are already on our way to a de facto gold standard.
Under the gold standard, as first devised by no less a genius than Sir Isaac Newton and refined by Thomas Jefferson and the Founding Fathers, the U.S. dollar had the same buying power at the end of the 19th century as it did in the beginning. During the 20th century, after having moved entirely off the gold standard, the dollar was worth 97% less. But, according to Paul Nathan, that doesn't mean we can simply set the clocks back to 1913. Ever mindful of the realities of a technologically integrated world financial system, he explains the nature of sound money, the causes and cures of inflation and deflation, the roots of recessions and depressions, and the meaning of fiscal responsibility within a sound monetary system. He then describes steps governments can take to gradually reintroduce a gold standard that will strengthen the dollar, reduce debt, and help stabilize the economy. Finally, he offers investors sound strategies for investing in gold now and in the future.
Paul Nathan is an exclusive contributor of articles on gold for kitco.com. With more than one million hits a day, kitco.com is the leading site for gold bugs worldwide. He wrote articles in the '70s for the Freeman and today writes a weekly commentary and market update for hard money enthusiasts and investors at paulnathan.biz. Nathan was there at the birth of the Libertarian Party, and his mother was the first national candidate to run on the Libertarian Party ticket in 1972. Nathan began writing on monetary and economic matters in 1968 while studying under Ayn Rand and Alan Greenspan at the Foundation for the New Intellectual.