Chipping Away at Public Debt: Sources of Failure and Keys to Success in Fiscal Adjustment
ISBN: 978-1-118-04338-7
Hardcover
278 pages
August 2011
US $45.00

Add to Cart
This price is valid for United States. Change location to view local pricing and availability.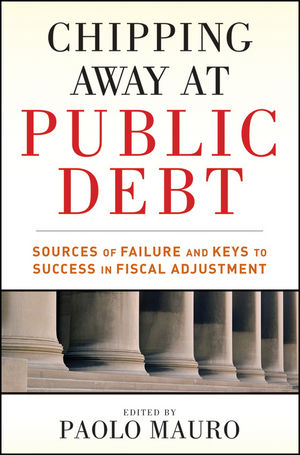 Other Available Formats:
E-book
"This analytical cross-country study of fiscal adjustment will be highly relevant for several countries, especially those in the euro area that, in the context of the new European governance, will follow a path of public debt reduction in the years ahead."
—Carlo Azeglio Ciampi, Emeritus President of the Italian Republic (President, 1999–2006; Finance Minister, 1996–1999)
"Unfortunately, out of necessity, the issues of debt and deficit dominate the national debate in too many countries. The experience of others can often provide a guide to solutions—what to do and what not to do. In this context, this book will prove invaluable."
—The Right Honorable Paul Martin, former Finance Minister (1993–2002) and Prime Minister (2003–2006) of Canada
"Budget consolidation may well be the defining macroeconomic issue for the industrialized world over the next decade. The budget debate is as unbalanced as the budget. Ideology and rhetoric dominate in places where evidence and logic should dominate. This important book balances the debate by providing careful and analytic evidence on all the important tradeoffs. It is a must-read for everyone concerned about our fiscal future."
—Lawrence H. Summers, University Professor at Harvard University; former Director, National Economic Council (2009–2011); Secretary of the U.S. Treasury (1999–2001)
"Reducing public debt will be the main policy issue for the next decade. This volume greatly helps us understand how to do it in a way that achieves the intended objectives despite unexpected events that will inevitably occur. We don't know as much as we should about fiscal policy: this volume improves our understanding with a careful analysis of many international examples of fiscal adjustment. A great read."
—Alberto Alesina, Professor of Political Economy, Harvard University
"How should countries around the world deal with their burgeoning levels of national debt? This timely book's detailed case studies illustrate that though failure is common, there is also more than one path to success and a number of key principles that can serve as a guide to navigation."
—Alan J. Auerbach, Professor of Economics and Law, Director of the Burch Center for Tax Policy and Public Finance, University of California, Berkeley
"There are few questions more important in the U.S. and Europe today than how public debt will be brought under control. Chipping Away at Public Debt reviews a wealth of experience with large-scale fiscal adjustment plans in advanced economies, drawing on country studies as well as statistical analysis. The authors reach useful and sometimes unexpected conclusions. In particular, economic factors such as 'growth surprises' are perhaps even more important than political factors in determining success."
—Dani Rodrik, Professor of International Political Economy, John F. Kennedy School of Government, Harvard University