Investing in Condominiums: Strategies, Tips and Expert Advice for the Canadian Real Estate Investor
ISBN: 978-1-118-04385-1
304 pages
November 2011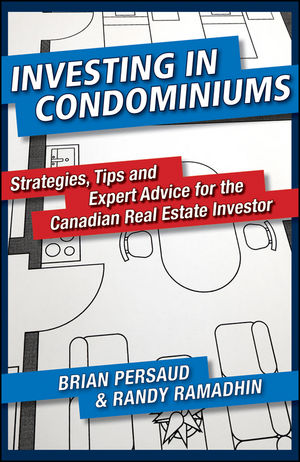 A lot of information has been published for those who wish to buy a condo as a principal residence, but not for investors who want to expand into the condominium market. Investing in condominiums is not about being caught up in the mass hysteria of lining up to buy a pre-construction unit in a "hot neighbourhood" and hopefully flipping it at a profit when it's built. On the contrary, investing in condos can be a very good way to generate solid returns when done according to the proven strategies outlined in the book.
Investing in Condominiums will show readers the ins and outs of profitable condo investing by sticking to investing fundamentals, carrying out proper due diligence, and having an exit plan. Pre-construction condominiums, especially in Toronto and Vancouver are sought-after by both Canadian and international investors. The stable economy, low-interest rate environment, and appreciating values are a recipe for investor success. Investing in Condominiums gives Canadian investors the nuts and bolts of undertaking such an investment based on real-life examples and expert knowledge. By reading this book, the investor can proceed with full confidence knowing that they are asking the right questions, doing the math, and assembling the right team of experts that will help them realize their investment goals.
See More
Chapter 1: The Pre-Construction Condo: Leap of Faith or Wise Investment? 1
Chapter 2: The Economics of Real Estate and Condo Investing 29
Chapter 3: What Am I Going to Get for My Money? 73
Chapter 4: The ABCs of Condo Design 125
Chapter 5: The Contract 153
Chapter 6: After You Sign the Contract 183
Chapter 7: Getting the Keys 205
Chapter 8: The First Year of Ownership 247
A Final Word 271
Credits 273
Acknowledgments 281
Index 289
See More
Brian Persaud
, BSc, is a co-founder of REal Experts Inc., a company dedicated to elevating investor confidence in real estate and teaching powerful proven investment models that work. REal Experts became the embodiment of Brian's dream; as an investor and advisor, his workshops and personal consult-ations are met with great enthusiasm and proven results. Through networking with colleagues at the Real Estate Investment Network, and an inexhaustible amount of passion and energy, Brian continues to add to his portfolio of residential real estate, with an emphasis on condominiums in Toronto and the GTA. He is the host and producer of Inside Toronto Real Estate, as seen on Rogers Cable TV. Visit www.realexpertsinc.com for more information.
Randy Ramadhin, Honours BA, is a graduate of the Rotman School of Business and possesses both real estate broker's and mortgage broker's licenses in Ontario, as well as the Professional Land Economist (PLE) designation. He is a veteran real estate investor, an advisor to investors on building their portfolio, and a teacher. Randy is a member of REINTM; former Chair of the Condominium Committee of the Building Industry and Land Development (BILD) Association; and founder of www.condoinvest.ca, where deals and knowledge are shared on all aspects of real estate investing. Randy currently serves as president of a condominium board and is also on the board of a 500-unit tower in downtown Toronto.
See More