E-book
SAS For Dummies
ISBN: 978-1-118-04401-8
408 pages
April 2011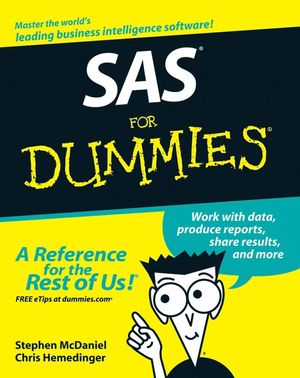 Created in partnership with SAS, this book explores SAS, a business intelligence software that can be used in any business setting or enterprise for data delivery, reporting, data mining, forecasting, statistical analysis, and more
SAS employee and technologist Stephen McDaniel combines real-world expertise and a friendly writing style to introduce readers to SAS basics
Covers crucial topics such as getting various types of data into the software, producing reports, working with the data, basic SAS programming, macros, and working with SAS and databases
See More
Introduction.
Part I: Welcome to SAS!
Chapter 1: Touring the Wonderful World of SAS.
Chapter 2: Your Connection to SAS: Using SAS Enterprise Guide.
Chapter 3: Six-Minute Abs: Getting Miraculous Results with SAS.
Part II: Gathering Data and Presenting Information.
Chapter 4: Accessing Data: Oh, the Choices!
Chapter 5: Managing Data: I Can Do That?
Chapter 6: Show Me a Report in Less Than a Minute.
Chapter 7: You Want Fries with That Graph?
Part III: Impressing Your Boss with Your SAS Business Intelligence.
Chapter 8: A Painless Introduction to Analytics.
Chapter 9: More Analytics to Enlighten and Entertain.
Chapter 10: Making It Pretty: Controlling Your Output.
Part IV: Enhancing and Sharing Your SAS Masterpieces.
Chapter 11: Leveraging Work from SAS to Those Less Fortunate.
Chapter 12: OLAP: Impressing Your Co-workers.
Chapter 13: Supercharge Microsoft Office with SAS.
Chapter 14: Web Fever: Yeah, SAS Has That Covered.
Part V: Getting SAS Ready to Rock and Roll.
Chapter 15: Setting It All Up.
Chapter 16: Taming the Data Beast.
Chapter 17: The New World Meets the Old: Programmers and SAS Enterprise Guide.
Part VI: The Part of Tens.
Chapter 18: Ten SAS Enterprise Guide Productivity Tips.
Chapter 19: Ten Tips for Administrators.
Chapter 20: Ten (or More) Web Resources for Extra Information.
Index.
See More
Stephen McDaniel
works at Yahoo! in Sunnyvale, CA, and is the Senior Manager of User Empowerment–Business Intelligence and Analytics. He is a strategic advisor and mentor for the business units in Yahoo! Search Marketing, helping business users to harness the potential of their data assets for planning and decision-making. As a member of Strategic Data Systems, he works closely with the data warehousing, business intelligence, and analytic teams on behalf of the business units to provide user-centric vision and guidance to their efforts. You can reach him at www.stephenmcdaniel.us. Previously, Stephen was the senior manager in charge of the SAS Enterprise Guide and the SAS Add-In for Microsoft Office development teams at SAS. Stephen has been a SAS user for more than 17 years and has experience at over 50 companies as a statistician, statistical programmer, product manager, and manager of data warehousing and business intelligence.
Chris Hemedinger is a senior software manager in the Business Intelligence Clients division at SAS. Chris began his career at SAS in 1993 as a technical writer, creating such hits as SAS Companion for the OS/2 Environment (remember OS/2?) and SAS Companion for the Microsoft Windows Environment. In 1997, he became involved in a prototype project to make SAS easier to use for non-programmers, and that project evolved into the hugely popular SAS Enterprise Guide, a product that Chris has worked with ever since.
See More