E-book
Academic Advising: A Comprehensive Handbook, 2nd Edition
ISBN: 978-1-118-04551-0
608 pages
January 2011, Jossey-Bass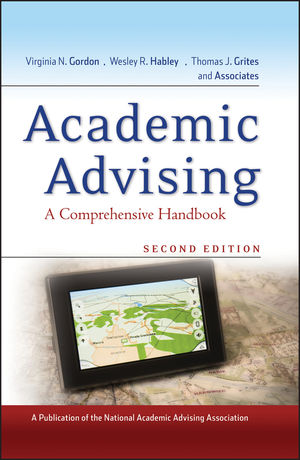 One of the challenges in higher education is helping students to achieve academic success while ensuring their personal and vocational needs are fulfilled. In this updated edition more than thirty experts offer their knowledge in what has become the most comprehensive, classic reference on academic advising. They explore the critical aspects of academic advising and provide insights for full-time advisors, counselors, and those who oversee student advising or have daily contact with advisors and students.
New chapters on advising administration and collaboration with other campus services

A new section on perspectives on advising including those of CEOs, CAOs (chief academic officers), and CSAOs (chief student affairs officers)

More emphasis on two-year colleges and the importance of research to the future of academic advising

New case studies demonstrate how advising practices have been put to use.
See More
Preface ix
Foreword xi
The Authors xiii
PART ONE: FOUNDATIONS OF ACADEMIC ADVISING 1
Introduction 1
Thomas J. Grites
1. Historical Foundations of Academic Advising 3
Terry L. Kuhn
2. Theoretical Foundations of Academic Advising 17
Peter L. Hagen and Peggy Jordan
3. Ethical Foundations of Academic Advising 36
Marc Lowenstein
4. Legal Foundations of Academic Advising 50
Mary M. Richard
5. Advising for Student Success 68
George D. Kuh
6. Advising as Teaching and Learning 85
Drew C. Appleby
7. Advising for Career and Life Planning 103
Paul A. Gore, Jr., and A. J. Metz
PART TWO: STUDENT DIVERSITY AND STUDENT NEEDS 119
Virginia N. Gordon
8. The Changing College Student 123
Kirsten Kennedy and Jennifer Crissman Ishler
9. Moving into College 142
Mary Stuart Hunter and Leah Kendall
10. Moving through College 157
George E. Steele and Melinda L. McDonald
11. Moving on from College 178
Jennifer Bloom
12. Students with Specifi c Advising Needs 189
Blane Harding
13. Advising Students of Color and International Students 204
Evette Castillo Clark and Jane Kalionzes
PART THREE: ORGANIZATION AND DELIVERY OF ADVISING SERVICES 227
Wesley R. Habley
14. Vision, Mission, Goals, and Program Objectives for Academic Advising Programs 229
Susan M. Campbell
15. Organization of Academic Advising Services 242
Margaret C. King
16. Advising Delivery: Faculty Advising 253
Martha K. Hemwall
17. Advising Delivery: Professional Advisors, Counselors, and Other Staff 267
Casey Self
18. Advising Delivery: Group Strategies 279
Nancy S. King
19. Advising Delivery: Using Technology 292
Michael J. Leonard
PART FOUR: TRAINING, ASSESSMENT, RECOGNITION, AND REWARD 307
Introduction 307
Wesley R. Habley
20. Critical Concepts in Advisor Training and Development 309
Thomas Brown
21. Tools and Resources for Advisors 323
Pat Folsom
22. Delivering One-to-One Advising: Skills and Competencies 342
Rusty Fox
23. Assessing Student Learning 356
John H. Schuh
24. Assessing Advisor Effectiveness 369
Joe Cuseo
25. Assessing the Effectiveness of the Advising Program 386
Wendy G. Troxel
26. Recognition and Reward for Academic Advising in Theory and in Practice 396
Jayne K. Drake
PART FIVE: PERSPECTIVES ON ADVISING 413
Introduction 413
Thomas J. Grites
27. Campus Administrator Perspectives on Advising 415
James E. Bultman, Faye N. Vowell, Jocelyn Y. Harney, and John Smarrelli with Susan Ames
28. Advising Administrator Perspectives on Advising 438
Kathy J. Davis, Dick Vallandingham, and Philip D. Christman
29. Perspectives on the Future of Academic Advising 456
Thomas J. Grites, Virginia N. Gordon, and Wesley R. Habley
PART SIX: EXEMPLARY PRACTICES IN ACADEMIC ADVISING 473
Virginia N. Gordon
Appendix A. National Academic Advising Association 521
Concept of Academic Advising 523
Appendix B. The Statement of Core Values of Academic Advising 525
Appendix C. Council for the Advancement of Standards in Higher Education Standards and Guidelines for Academic Advising 533
Name Index 547
Subject Index 555
See More
Virginia N. Gordon
is assistant dean emeritus and adjunct associate professor at The Ohio State University. She is author of
Career Advising
from Jossey-Bass.
Wesley R. Habley directs the American College Testing (ACT) Center for the Enhancement of Educational Practices in Iowa City, Iowa.
Thomas J. Grites is assistant to provost at the Richard Stockton of New Jersey in Pomona, New Jersey.
See More
Learn more about