E-book
Getting Started in Chart Patterns
ISBN: 978-1-118-04617-3
320 pages
March 2011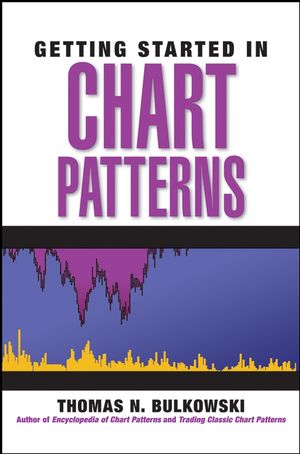 An accessible guide to understanding and using technical chart patterns
Chart pattern analysis is not only one of the most important investing tools, but also one of the most popular. Filled with in-depth insights and practical advice, Getting Started in Chart Patterns is designed to help both new and seasoned traders profit by tracking and identifying specific chart patterns. Expert Thomas Bulkowski opens with a basic discussion of chart pattern formation and how bad habits can hurt trading. He then moves on to introduce over 40 key chart formations as well as numerous trading tactics that can be used in conjunction with them. Readers will benefit from the specifics (actual trades with dollar amounts) outlined throughout the book and the frank discussions of how trading behavior can affect the bottom line. Anecdotes from Bulkowski's own trading experiences are also included to shed light on how one of the best in the business goes about trading with chart patterns.
Order your copy today.
See More
Preface.
Acknowledgments.
Chapter 1: The Smart Money's Footprints.
Chapter 2: Trading Psychology.
Chapter 3: The Truth about Trendlines.
Chapter 4: Support and Resistance: The Most Important Chart Patterns.
Chapter 5: Special Situations.
Chapter 6: The Top 10 Performing Bottoms.
Chapter 7: Common Patterns for the Toolbox.
Chapter 8: Event Patterns: What They Are and How to Trade Them.
Chapter 9: Busted Patterns: Making Money by Trading Failure.
Chapter 10: More Trades: Putting It All Together.
Chapter 11: The Art of Trading: Checklists.
Chapter 12: Crunching the Numbers.
Epilogue/Closing Position.
Glossary.
Index of Chart and Event Patterns.
Index.
See More
THOMAS N. BULKOWSKI is a successful investor with twenty-five years of experience trading stocks. He is also the author of Trading Classic Chart Patterns and Encyclopedia of Chart Patterns (both from Wiley), as well as a contributing writer for Active Trader; Stocks, Futures & Options; and Technical Analysis of Stocks & Commodities magazines. Before earning enough from his investments to "retire" from his day job at age thirty-six, Bulkowski was a hardware design engineer with the Raytheon Company and a senior software engineer for the Tandy Corporation.
See More