Stock Trader's Almanac 2012
ISBN: 978-1-118-04869-6
Hardcover
192 pages
October 2011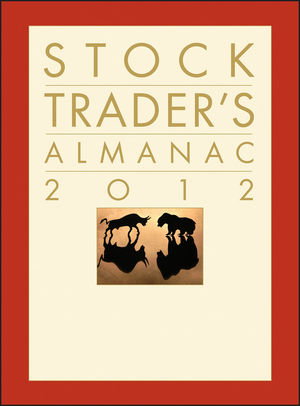 This title is out-of-print and not currently available for purchase from this site.
October 05, 2011
Stock Trader's Almanac 2012
Connect with Wiley Publicity
Fifteen Year Projection for Dow Historic Buying Opportunity
Now in its 45th annual edition, the STOCK TRADER'S ALMANAC 2012 (Wiley; October 2011; $45.00; 978-1-118-04869-6; Hardcover and Ebook) is packed with loads of new features, including a 15-year projection for the Dow that provides ample opportunity for long-term investors to accumulate stocks at a discount over the next several years and for nimble traders to capitalize on a volatile range bound market. Following up on last year's forecast for the Next Super Boom to start in 2017 and carry the Dow up 500% to 38,820 by 2025 (expanded on in his book Super Boom: Why the Dow Jones Will Hit 38,820 and How You Can Profit From It; Wiley, April 2011), Editor-in-Chief Jeffrey A. Hirsch projects "a continuing sideways market through the year 2017 or 2018 with the Dow remaining in a range of roughly 7,000 to 14,000 before it takes off" on this 500% move. Hirsch continued, "Rising inflation from massive government spending and easy monetary policy over the next 5-10 years will begin to taper off as the stock market begins to inflate six-fold." Relying on market behavior and global economic trends as well as monthly, seasonal, annual, and four-year cycle patterns during the last three major boom and bust cycles of the 20th Century, Hirsch expects several tests of Dow 10,000 and resistance to hold at 14,000. "Dow 8,000 is likely to come under fire in 2013-2014 as we withdraw from Afghanistan. Resistance will likely be met in 2015-2017 near 13,000-14,000. Another test of 8,000-support in 2017-2018 is expected as inflation begins to level off and the next Super Boom commences."
This must-have investment tool has a wealth of information organized in a calendar format. It alerts readers to little-known market patterns and tendencies that help investors forecast market trends with accuracy and confidence. The data and analyses in the Almanac are relied upon by savvy professionals, from well-known money managers to journalists. Allowing shrewd investors to maximize profit potential, STA is the ultimate desktop market data bank, showing the market's likely direction every hour, day, week, and month based on historical precedent. In addition, sector seasonalities that were revamped last year to include several consistent shorting opportunities have been expanded and updated with this edition. STAtransforms investing into a business framework and makes investing easier by presenting new techniques and tools, providing pertinent statistics on past market performance, and supplying forms necessary for portfolio management.
Created by Jeff Hirsch and the Hirsch Organization, tools and strategies contained in STA include:
The January Barometer: Predicts that stock market performance during the month of January sets the direction for the entire year. In fact, every down January for the S&P 500 since 1950 has been followed by a new or continuing bear market, a 10% correction or a flat year. The indicator has registered only seven major errors since 1950 for an 88.5% accuracy ratio. In 2010, the S&P 500 was down 3.7%, but after a 16.0% correction, the year ultimately ended up as the market was buoyed by the Fed's QE2. In 2011, the S&P was up by 2.3% in January, which bodes well for full-year gains in 2011 though current conditions suggest gains will be modest.
The Best Six Months Switching Strategy: The stock market tends to make almost all its gains during just six particular months of the year. In most years, the rest of the time traders would be better off putting their money in T-bills and going fishing. STA has upped the ante on this old favorite by combining the benefits of the Best Six Months and the four-year cycle, nearly tripling the Best Six Months results with four trades every four years. In the 2012 edition, the almanac provides detailed instructions on how to implement trading strategies based on the Best Months Switching Strategies and some simple techniques for determining what to trade when implementing this strategy, including a sampling of tradable mutual funds and ETFs.
Four-Year Presidential Election/Stock Market Cycle: Our presidential elections every four years affect the economy and the stock market – just as the moon affects the tides. There have been no losses in the third (pre-election) year of a president's term since war-torn 1939 as presidents prime the pump to keep themselves or their party in the White House. However, if President Obama and Congress fail to reach common ground on key economic and budget policy issues in short order, 2011 runs the risk of being the first losing pre-election year since the start of WWII. Continued political grandstanding in Washington is likely to temper gains in 2012.
Other products from the Hirsch Organization include COMMODITY TRADER'S ALMANAC 2012 (Wiley; November 2011; $45.00; 978-1-1180-7847-1; Hardcover; Ebook), StockTradersAlmanac.com, and the Stock Trader's Almanac Apple App.
Organized in the same format as the Stock Trader's Almanac, COMMODITY TRADER'S ALMANAC provides essential market-based data and trends for eight major commodity groupings: energy; metals; grains; softs; meats; currencies; plus S&P 500 and 30-Year Treasury Bond futures. Written by Jeffrey A. Hirsch and John L. Person, it contains pertinent statistics on past market performance for all major futures and commodities, from crude oil and coffee to gold and sugar. CTA also focuses on highly-correlated exchange traded fund (ETF) and stocks to trade the most consistent commodity and futures seasonalities, using a few simple technical timing techniques detailed throughout the annual tome.
In addition to access to the annual STA print edition, a subscription to the digital product ALMANAC INVESTOR provides twice weekly e-mail alerts that feature stock market forecasting, indicators, and seasonal patterns, alerting users to the best/worst trading days, market changes, stock and ETF recommendations and updates, financial commentary, overall market sentiment; monthly enewsletters that provide a guide to market patterns, cycles, fundamental developments, strategies and stock selection, and updates and expands the strategies outlined in the Stock Trader's Almanac; and access to handy research and portfolio tracking tools that enable subscribers to do their own research and update market indicators and strategies.
The Stock Trader's Almanac Blog provides daily trading sentiment and keeps Almanac followers up to date on indicators, hot-topics, market happenings, speaking, news, and media coverage. The Hirsch Organization also publishes books with Wiley under its Almanac Investor Series, including The MAGNET Method of Investing by Jordan Kimmel, Double Your Money in America's Finest Companies by Bill Staton andAmerica's Finest Companies 2010: 19th Annual Investment Directory (E-Book Only) by Bill Staton with Mary Staton.
The Stock Trader's Almanac 2012 Apple App (December 2011) provides historical market data for every trading day of 2012. Designed for iPhone, iTouch, and iPad, this app is loaded with trading data, tools and timing triggers derived from over 45 years of research by the Hirsch Organization.
Features include
A New Monthly Almanac Tool: Track market performance by month to identify best and worst months for the Dow, S&P, and NASDAQ
Notes: Create your own trading notes and export them to email, DropBox and Google Docs
Day View: Bull/bear/neutral icon; Market Probability % for DOW, S&P, NAS, R1K, R2K; Key Market Facts; Links to detailed timing explanations; Witching indicators; and Quote of the Day
Week View: Bull/bear/neutral icon and Signals to look for "This Week"
Month View: Bull/bear/neutral indicators; Probability Chart; Market Facts; and Vital Statistics
Markets: Current major market quotes vs. probability
Tools: Full Stock Trader's Almanac blog content; ability to export daily data to iCal, Outlook and Google Calendar; December Low Indicator; and Probability Index (select data set for any period from 1901 to present)
Shop: Resources and trading tools from Wiley Global Finance (Wileyglobalfinance.com)