The Learner-Centered Curriculum: Design and Implementation
ISBN: 978-1-118-04955-6
272 pages
March 2012, Jossey-Bass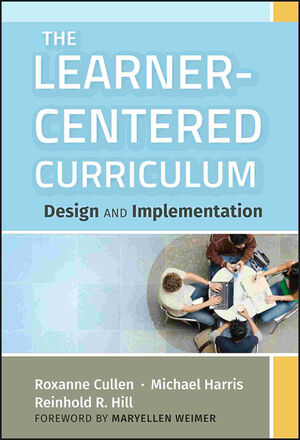 Most of the scholarship on learner-centeredness is focused on individual classroom pedagogy, but this book takes learner-centeredness beyond the classroom and asks academic leaders to consider the broader implications of making their institutions fully learner-centered. Systemic change is needed, and curriculum is at the heart of what higher education does. To truly effect change, the curriculum needs to be examined and aligned with learner-centered practices. In this book the authors offer both design specifications for a learner-centered approach to curriculum as well as practical recommendations for implementation and assessment. The book covers the need for redesigning curriculum, curriculum design in the instructional paradigm, learner-centered design in practice, implementation, program assessment (including a helpful rubric for this), innovating through technology, and learning spaces that support learner-centered curricula.
See More
Foreword ix
Preface xiii
Acknowledgments xix
About the Authors xxi
1. Why Redesign Curriculum? 1
2. Curriculum Design in the Instructional Paradigm 23
3. The Learner-Centered Curriculum 45
4. Leading Curricular Implementation 73
5. Learner-Centered Design in Practice 105
6. Assessment Aimed at Learner Autonomy 127
7. Innovating Through Technology 159
8. Learning Spaces That Support Learner-Centered Curricula 183
Closing Thoughts 209
References 211
Index 227
See More
Roxanne Cullen is a professor of English at Ferris State University in Big Rapids, Michigan, where she has also acted as associate vice president for academic affairs.
Michael Harris is the chancellor of Indiana University-Kokomo. He and Roxanne Cullen coauthored Leading the Learner-Centered Campus: An Administrative Framework for Improving Student Learning Outcomes from Jossey-Bass.
Reinhold R. Hill is dean of the College of Arts and Sciences at Governors State Universityin Illinois.
See More
Learn more about