E-book
Outlook 2007 All-in-One Desk Reference For Dummies
ISBN: 978-1-118-05089-7
840 pages
February 2011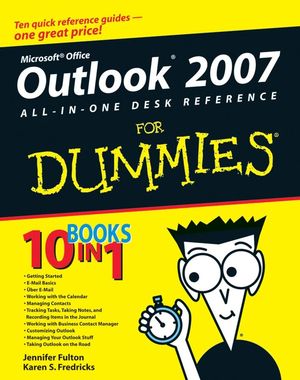 Nine minibooks spanning more than 800 pages make this an indispensable guide for Outlook power users
Covers the new Outlook interface and features and offers detailed coverage of Outlook tools, techniques, and tricks
Minibooks include: Outlook basics; e-mail, RSS, and news; personal information management; managing and controlling information; collaboration; functional forms; VBA programming; managing business information; and maintenance, management, and troubleshooting
Office has more than 120 million users worldwide-90 percent of the business productivity software market-and most of these users look to Outlook for e-mail, calendaring, and personal information management
See More
Introduction.
Book I: Getting Started.
Chapter 1: An Insider's Look at the Outlook Interface.
Chapter 2: Outlook, Quick and Dirty.
Chapter 3: Setting Up Your E-Mail Accounts.
Chapter 4: Importing Data into Outlook.
Book II: E-Mail Basics.
Chapter 1: Creating New Messages: Beyond the Basics.
Chapter 2: Reading and Replying to E-Mail.
Chapter 3: Making Your E-Mail Look Professional and Cool.
Chapter 4: Repeating Yourself Easily with Signatures and Templates.
Book III: Über E-Mail.
Chapter 1: Controlling the Sending and Receiving of Messages.
Chapter 2: When You Have to Know Now: Instant Messaging.
Chapter 3: Getting the Latest News Delivered Right to Your Inbox.
Chapter 4: Sending Mass Mailings.
Chapter 5: Managing Multiple E-Mail Accounts.
Book IV: Working with the Calendar.
Chapter 1: Getting Familiar with the Calendar.
Chapter 2: Going Further with the Calendar.
Chapter 3: Calendar Collaboration.
Chapter 4: All About Meetings.
Chapter 5: Making the Calendar Your Own.
Book V: Managing Contacts.
Chapter 1: Getting in Contact.
Chapter 2: Working with Your Contacts.
Chapter 3: Dealing with Business Cards.
Chapter 4: Contacts Collaboration.
Book VI: Tracking Tasks, Taking Notes, and Recording Items in the Journal.
Chapter 1: Creating Tasks with the To-Do Bar.
Chapter 2: Dealing with More Complex Tasks.
Chapter 3: Spreading the Joy: Task Assignments.
Chapter 4: Taking Notes.
Chapter 5: Taking Notes in Overdrive: OneNote.
Chapter 6: Maximizing the Power of OneNote.
Chapter 7: Making History in the Journal.
Book VII: Working with Business Contact Manager.
Chapter 1: Minding Your Business Contact Manager.
Chapter 2: Introducing the Basic Business Contact Manager Elements.
Chapter 3: Working with Opportunities.
Chapter 4: Reports and Dashboards.
Book VIII: Customizing Outlook.
Chapter 1: Organizing Items with Categories.
Chapter 2: Changing Your View on Outlook.
Chapter 3: Customizing Outlook Forms.
Book IX: Managing Your Outlook Stuff.
Chapter 1: Finding a Place for Your Stuff.
Chapter 2: Playing by the Rules.
Chapter 3: Making Mincemeat Out of Spam.
Chapter 4: Seek and Ye Shall Find.
Chapter 5: Securing Outlook E-Mail.
Book X: Out and About: Taking Outlook on the Road.
Chapter 1: Staying in Touch No Matter Where You Are.
Chapter 2: Turning Your E-Mail Accounts into Roadies.
Chapter 3: Printing Your Stuff and Taking It with You.
Index.
See More
Jennifer Fulton
, iVillage's former "Computer Coach," is an experienced computer consultant and trainer with over 20 years in the business. Jennifer is a best-selling author of over 100 computer books for the beginner, intermediate, and advanced user, ranging from the self-motivated adult business user to the college, technical, high-school, or middle school student. Jennifer is also a computer trainer for corporate personnel, teaching a variety of classes including Windows, Microsoft Office, Paint Shop Pro, Photoshop Elements, and others.
Jennifer is a self-taught veteran of computing, which means, of course, that if something
can
happen to a computer user, it has probably happened to her at one time or another. Thus Jennifer brings what's left of her sense of humor to her many books, including:
Adobe Photoshop Elements 4 in a Snap, How to Use Macromedia Dreamweaver 8 and Fireworks 8, Adobe Photoshop Elements 3 in a Snap, Digital Photography with Photoshop Album in a Snap, Paint Shop Pro 8 in a Snap
,
Learning Office 2003
,
Learning Excel 2003
, and
Multimedia Basics
.
Karen S. Fredricks began her life rather non-technically growing up in Kenya. She attended high school in Beirut, Lebanon, where she developed her sense of humor while dodging bombs. After traveling all over the world, Karen ended up at the University of Florida and has been an ardent Gator fan ever since. In addition to undergraduate studies in English, Theater, and Accounting, Karen has a master's degree in Psycholinguistics. Beginning her career teaching high school English and theater, Karen switched to working with the PC during its inception in the early '80s and has worked as a full-time computer consultant and trainer ever since.
Karen is an ACT! Certified Consultant, an ACT! Premier Trainer, a Microsoft Office User Specialist, and a QuickBooks Pro Certified Advisor. She is the author of four For Dummies books on ACT! In addition, she has written Outlook 2007 Business Contact Manager For Dummies and is completing work on Microsoft Office Live For Dummies. A true fan of the For Dummies series, she helped organize The Authors Unconference, the first ever gathering of For Dummies authors.
See More