E-book
Acupressure and Reflexology For Dummies
ISBN: 978-1-118-05153-5
360 pages
February 2011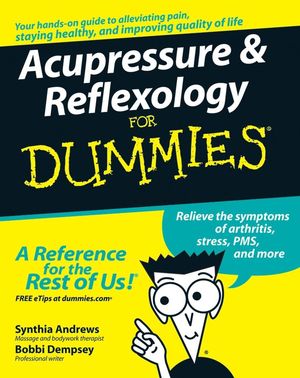 Features healing routines and illustrations to guide you
Ease your aches and find relief through the power of touch
Searching for alternative treatments for pain? This friendly, do-it-yourself guide introduces you to the basics and benefits of acupressure and reflexology, showing you step by step how to nurture your emotional and physical well-being and that of someone else. You'll see how to target specific body parts to address your ailments and improve your emotional as well as your physical well-being.
Understand basic healing principles

Relieve your specific aches and pains

Boost your immune system

Address age-related ailments

Find professional help
See More
Introduction.
Part I: Touching on the Basics of Acupressure and Reflexology.
Chapter 1. Acupressure and Reflexology Essentials.
Chapter 2. Healing Yourself or a Loved One.
Chapter 3. the Terrain: Bones, Muscles, Meridians, and Reflex Zones.
Chapter 4. Technique: The Healing Touch.
Chapter 5. Professional Help Wanted?
Part II: Promoting Emotional and Physical Wellness.
Chapter 6. Maintaining Good Health.
Chapter 7. Balancing Emotions for Well_Being.
Chapter 8. Treating Emotional Upset.
Part III: Where Does It Hurt? Treating Common Aches and Ailments.
Chapter 9. Putting Your Best Foot Forward.
Chapter 10. Healing the Leg and Hip Regions.
Chapter 11. Relieving Backaches.
Chapter 12. Relief for Hurting Heads (And Pains in the Neck).
Chapter 13. Lending a Hand (And Arm and Shoulder, Too!).
Chapter 14. Time for a Gut Check.
Chapter 15. Chest-Related Care and Considerations.
Part IV: Addressing Specific Needs and Concerns.
Chapter 16. Age-Related Treatments.
Chapter 17. Especially for Women.
Chapter 18. Fighting Colds, Preventing Illness, and Relieving Some Chronic Conditions.
Part V: The Part of Tens.
Chapter 19. ten Myths and Misconceptions About Acupressure and Reflexology.
Chapter 20. Ten Ways Acupressure and Reflexology Can Enrich Your Life.
Appendix: Resources.
Index.
See More
Synthia Andrews
has been a message and bodywork therapist for 25 years. She is an authorized teacher of Jin Shin Do Bodymind Acupressure, has been on faculty at the Connecticut Center for Massage Therapy for 16 years, and was a four-year faculty member at the Kripalu Yoga Institute. She is licensed in the state of Connecticut, where she maintains a private practice, and is currently a forth-year student of Naturopathic Medicine at the University of Bridgeport. Her Real love is using acupressure to help abused, neglected, or injured horses. You can find classes with Synthia and other qualified professionals at www.bodymindeast.com and www.jinshindo.org.
Bobbi Dempsey is a freelance writer for many major publications including The New York Times, Muscle & Fitness, Family Circle, Parents, Men's Fitness, and many others. She is also the author of numerous nonfiction books on topics ranging from diabetes to homemade ice cream. Her Web site is www.magazine-writer.com.
See More