E-book
High Blood Pressure for Dummies, 2nd Edition
ISBN: 978-1-118-05166-5
360 pages
February 2011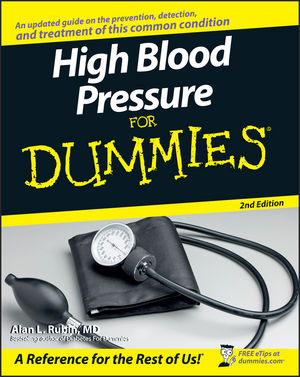 New info on high blood pressure in women, children, and the elderly
The fun and easy way to take charge of hypertension and add years to your life!
Are you battling high blood pressure? This updated guide explains all the latest breakthroughs in the detection, treatment, and prevention of high blood pressure, helping you determine whether you're at risk and develop a diet and exercise program to keep your blood pressure at healthy levels. You'll also find new information on protecting your heart, kidneys, and brain and dealing with secondary high blood pressure.
Measure your blood pressure properly

Develop a successful treatment plan

Improve your lifestyle habits

Evaluate new drug therapies

Find resources and outside support
See More
Introduction.
Part I: Understanding High Blood Pressure.
Chapter 1: Introducing High Blood Pressure.
Chapter 2: Detecting High Blood Pressure.
Chapter 3: Determining Whether You're at Risk.
Chapter 4: Dealing with Secondary High Blood Pressure.
Part II: Considering the Medical Consequences.
Chapter 5: Defending Your Heart.
Chapter 6: Shielding Your Kidneys.
Chapter 7: Protecting Your Brain.
Part III: Treating (Or Preventing) High Blood Pressure.
Chapter 8: Developing a Successful Treatment Plan.
Chapter 9: Choosing Foods that Lower High Blood Pressure.
Chapter 10: Keeping Salt Out of Your Diet.
Chapter 11: Avoiding Tobacco, Alcohol, and Caffeine.
Chapter 12: Lowering Blood Pressure with Exercise.
Chapter 13: Adding Drug Therapy.
Part IV: Taking Care of Special Populations.
Chapter 14: Helping the Elderly.
Chapter 15: Handling High Blood Pressure in Children.
Chapter 16: Treating High Blood Pressure in Women.
Part V: The Part of Tens.
Chapter 17: Ten Simple Ways to Prevent or Reduce High Blood Pressure.
Chapter 18: Ten (Or So) Myths about High Blood Pressure.
Chapter 19: Ten New Discoveries about High Blood Pressure.
Appendix: Resources for the Latest Information.
Index.
See More
Alan L. Rubin, MD has been managing and studying high blood pressure for three decades. He is a bestselling author whose previous books, Diabetes For Dummies, Diabetes Cookbook For Dummies, and Thyroid For Dummies, have been major successes. Letters of praise from numerous readers verify the important role that his books have played in their lives. The books have been translated into seven languages, and there are special editions for the United Kingdom, Canada, and Australia. His books provide the latest information on every aspect of their subject while being written in an easy-to-understand format that's full of humor and wisdom.
Dr. Rubin has practiced endocrinology in San Francisco since 1973. He teaches doctors, medical students, and nonprofessionals through classes, lectures, and articles. He has been on numerous radio and television shows, answering questions about diabetes, thyroid disease, and high blood pressure. He serves as a consultant to many pharmaceutical companies and companies that make products for high blood pressure.
See More