E-book
Russian For Dummies
ISBN: 978-1-118-05288-4
384 pages
May 2011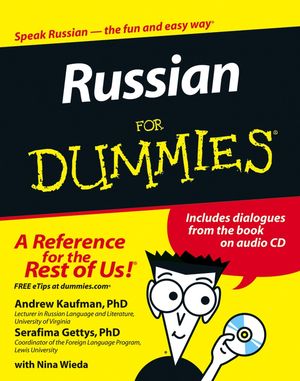 Russian is spoken by nearly 450 million people, and demand for Russian-speakers is growing. This introductory course includes an audio CD with practice dialogues-just the ticket for readers who need basic Russian for business, school, or travel.
Serafima Gettys, PhD (Newark, CA), is Coordinator of the Foreign Language Program at Lewis University.
Andrew Kaufman, PhD (Charlottesville, VA), is a Visiting Assistant Professor at the University of Virginia.
Note: CD-ROM/DVD and other supplementary materials are not included as part of eBook file.
See More
Introduction.
Part I: Getting Started.
Chapter 1: You Already Know a Little Russian.
Chapter 2: The Nitty Gritty: Basic Russian Grammar and Numbers.
Chapter 3: Zdravstvujtye! Privyet! Greetings and Introductions.
Part II: Russian in Action.
Chapter 4: Getting to Know You: Making Small Talk.
Chapter 5: Making a Fuss about Food.
Chapter 6: Shopping Made Easy.
Chapter 7: Going Out on the Town, Russian-Style.
Chapter 8: Enjoying Yourself: Recreation and Sports.
Chapter 9: Talking on the Phone and Sending Mail.
Chapter 10: Around the House and at the Office.
Part III: Russian on the Go.
Chapter 11: Planning a Trip.
Chapter 12: Getting Around: Planes, Trains, and More.
Chapter 13: Staying at a Hotel.
Chapter 14: Money, Money, Money.
Chapter 15: Where Is Red Square? Asking Directions.
Chapter 16: Handling Emergencies.
Part IV: The Part of Tens.
Chapter 17: Ten Ways to Pick Up Russian Quickly.
Chapter 18: Ten Favorite Russian Expressions.
Chapter 19: Ten Russian Holidays to Remember.
Chapter 20: Ten Phrases That Make You Sound Russian.
Chapter 21: Ten Things Never to Say or Do in Russia.
Part V: Appendixes.
Appendix A: Verb Tables.
Appendix B: Mini-Dictionary.
Appendix C: Answer Key.
Appendix D: On the CD.
Index.
See More
Andrew Kaufman, PhD,
is currently a Visiting Lecturer in the Department of Slavic Languages and Literatures at the University of Virginia. He holds a PhD in Slavic Languages and Literatures from Stanford University, and he has recognized success as both a published scholar and an innovative, award-winning teacher of Russian language, literature, and culture at some of the country's top universities. Dr. Kaufman has worked as a Russian language and literature expert for "Oprah's Book Club," he has discussed Russian literature and culture on the national television show
Democracy Now!
, and he has been heard as a featured guest on Talk America Radio and on Silver Rain Radio in Russia. A fluent speaker of Russian, Dr. Kaufman has lived extensively in Russia, where he studied at Moscow State University and also worked as an interpreter, translator, and management consultant. To learn more about Dr. Kaufman, please visit his website at www.professorandy.com.
Serafima Gettys, PhD, earned her doctorate degree in Foreign Language Education from Gertzen State Pedagogical University, Leningrad, USSR. She is currently a Coordinator of the Foreign Language Program at Lewis University, where she also teaches Russian. Prior to coming to Lewis University, she taught Russian at Stanford University. Gettys is also a member of a number of professional language associations.
Nina Wieda is a doctoral student in Slavic Languages and Literatures at Northwestern University in Chicago. She is committed to bringing Russian language and culture into the lives of her readers and students, because, as the Latin proverb goes, "With each new language, you live a new life." A trained linguist with an MA in Social Sciences, Nina also has a book of poetry published in Russian, and a number of scholarly articles on Chekhov and contemporary drama published in English.
See More