E-book
They Snooze, You Lose: The Educator's Guide to Successful Presentations
ISBN: 978-1-118-05833-6
240 pages
June 2011, Jossey-Bass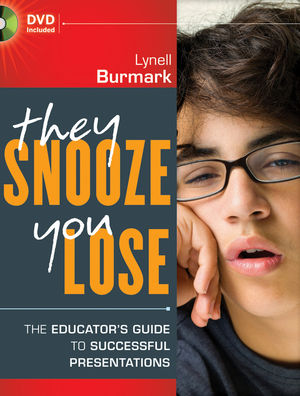 Presentation skills that that will captivate your audience every time
In today's increasingly visual world, the art of giving presentations is a much-needed talent. They Snooze, You Lose, provides a comprehensive guide made especially for teachers and administrators who want to become presentation "stars" in their classrooms, at board meetings, or any time they are in front of an audience
Describes how to apply the author's proven CHIMES2 elements: Connections, Humor, Images, Music, Emotion, Stories, and Senses
Contains a bonus DVD with premade slides, a study guide, and reproducible images
Burmark is the author of the best-selling book Visual Literacy: Learn to See, See to Learn
Includes key sections on the best ways to integrate technology into your presentations
New and seasoned educators alike will benefit from this fun and easy-to-read guide on building essential presentation skills.
See More
About the DVD vii
Foreword xi
Acknowledgments xiii
Introduction xv
About the author xvii
Part 1 Evolution
1 Tweaking presentations 3
Templates, color, and type
2 Creating slides and handouts 25
Powerful role for slides; complementary job for handouts
3 Celebrating presenters 43
Lecturer + entertainer + motivator = educator
Part 2 Revolution
4 Ringing CHIMES2 61
Connections, humor, images, music, emotion, story, and senses
5 Making connections 69
Creating context; ten-minute limit, 10:2 presentations; Wordles
6 Harnessing humor 93
Wit, mirth, and laughter; the humor zone; resources
7 Starting with images 109
Setting the stage, reducing text, color power, pictorial effect
8 Playing music 141
Dictating appropriate emotional states; music and learning; your Beatles
9 Tapping emotion 157
Sticky like Post-it notes; statistics versus emotional appeal; HeartMath
10 Telling stories 175
Stories organize our worlds; progressive story; writing the future
11 Engaging senses 195
Multisensory learning, anchor images, dual channels, popcorn to remember
Part 3 Resolution
12 Putting it all together 215
Review of ten starter strategies for avoiding presentation pitfalls
Notes 229
Index 249
Credits 259
How to use the DVD 261
See More
Lynell Burmark, Ph.D., award-winning college professor and K–12 classroom teacher, now consults to school districts and high-tech companies and keynotes dozens of conferences every year. The author of Visual Literacy: Learn to See, See to Learn, she maintains a website atwww.educatebetter.org.
See More