E-book
BIM and Construction Management: Proven Tools, Methods, and Workflows
ISBN: 978-1-118-05944-9
364 pages
January 2011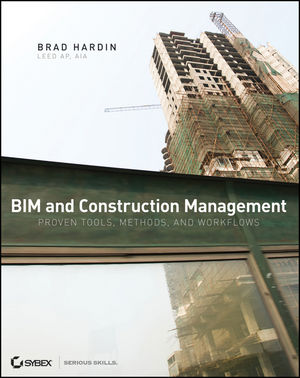 Offering practical advice and tested techniques, this book serves as the first and only building information modeling (BIM) integration guide for the construction industry. You'll explore crucial construction tasks such as estimating, staging, sustainability testing, multiple model trade coordination, and digital detail resolution. In addition, the book also looks at facility management models and offers a clear picture of how the featured tools, techniques, and workflows can benefit each discipline.
See More
1. BIM and Construction Management.
2. BIM and Pre-Construction.
3. BIM and Construction.
4. BIM and Budget Management.
5. BIM and Construction Administration.
6. BIM and Sustainability.
7. BIM and Facility Management.
8. The Future of BIM.
See More
Brad Hardin, LEED AP, AIA, is the Managing Director at 3D Construct Lab, a BIM consulting company. Previously, he was the building information director at McCownGordon Construction, one of the Midwest's largest contractors. He is an expert architect who has successfully led the completion of multimillion-dollar BIM projects around the globe. He cofounded PlanetReuse.com, has written for several industry trade magazines, maintains a blog on construction and BIM topics (bimcompletethought.blogspot.com), and teaches and speaks at such key industry conferences as American Institute of Architects, Associated General Contractors of America, U.S. Green Building Council, and Cascadia Green Building Council.
See More
Learn more about