E-book
Professional C# 2008
ISBN: 978-1-118-05946-3
1848 pages
January 2011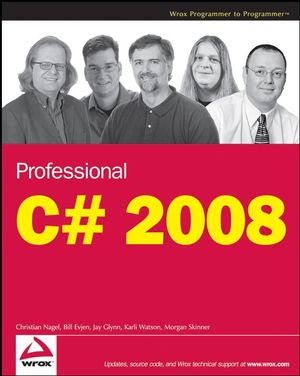 Professional C# 2008 starts by reviewing the overall architecture of .NET in Chapter 1 in order to give you the background you need to be able to write managed code. After that the book is divided into a number of sections that cover both the C# language and its application in a variety of areas.
See More
Acknowledgments xiii
Introduction xlvii
Part I: The C# Language 1
Chapter 1: .NET Architecture 3
Chapter 2: C# Basics 25
Chapter 3: Objects and Types 75
Chapter 4: Inheritance 101
Chapter 5: Arrays 121
Chapter 6: Operators and Casts 141
Chapter 7: Delegates and Events 177
Chapter 8: Strings and Regular Expressions 203
Chapter 9: Generics 223
Chapter 10: Collections 247
Chapter 11: Language Integrated Query 297
Chapter 12: Memory Management and Pointers 329
Chapter 13: Reflection 357
Chapter 14: Errors and Exceptions 377
Part II: Visual Studio 399
Chapter 15: Visual Studio 2008 401
Chapter 16: Deployment 443
Part III: Base Class Libraries 467
Chapter 17: Assemblies 469
Chapter 18: Tracing and Events 509
Chapter 19: Threading and Synchronization 533
Chapter 20: Security 583
Chapter 21: Localization 639
Chapter 22: Transactions 679
Chapter 23: Windows Services 715
Chapter 24: Interoperability 749
Part IV: Data 789
Chapter 25: Manipulating Files and the Registry 791
Chapter 26: Data Access 845
Chapter 27: LINQ to SQL 895
Chapter 28: Manipulating XML 921
Chapter 29: LINQ to XML 967
Chapter 30: .NET Programming with SQL Server 985
Part V: Presentation 1015
Chapter 31: Windows Forms 1017
Chapter 32: Data Binding 1061
Chapter 33: Graphics with GDI+ 1093
Chapter 34: Windows Presentation Foundation 1149
Chapter 35: Advanced WPF 1199
Chapter 37: ASP.NET Pages 1273
Chapter 38: ASP.NET Development 1311
Chapter 39: ASP.NET AJAX 1355
Chapter 40: Visual Studio Tools for Office 1385
Part VI: Communication 1421
Chapter 41: Accessing the Internet 1423
Chapter 42: Windows Communication Foundation 1455
Chapter 43: Windows Workflow Foundation 1487
Chapter 44: Enterprise Services 1527
Chapter 45: Message Queuing 1555
Chapter 46: Directory Services 1587
Chapter 47: Peer-to-Peer Networking 1625
Chapter 48: Syndication 1643
Part VII: Appendices 1653
Appendix A: ADO.NET Entity Framework 1655
Appendix B: C#, Visual Basic, and C++/CLI 1681
Summary 1729
Index 1731
See More
Christian Nagel
of thinktecture is a software architect and developer who offers training and consulting on how to design and develop Microsoft .NET solutions. He looks back on more than 20 years of software development experience. Christian started his computing career with PDP 11 and VAX/VMS platforms, covering a variety of languages and platforms. Since the year 2000, when .NET was just a technology preview, he has been working with various .NET technologies to build numerous .NET solutions. With his profound knowledge of Microsoft technologies, he has written numerous .NET books, and is certified as a Microsoft Certified Trainer and Professional Developer for ASP.NET. Christian speaks at international conferences such as TechEd and Tech Days, and supports .NET user groups with INETA Europe. You can contact Christian via his Web sites, www.christiannagel.com and www.thinktecture.com .
Bill Evjen, Microsoft MVP is an active proponent of .NET Technologies and community - based learning initiatives for .NET. He has been actively involved with .NET since the first bits were released in 2000. In the same year, Bill founded the St. Louis .NET User Group ( www.stlnet.org ), one of the world ' s first such groups. Bill is also the founder and former executive director of the International .NET Association ( www.ineta.org ), which represents more than 450,000 members worldwide. Based in St. Louis, Missouri, Bill is an acclaimed author (more than 15 books to date) and speaker on ASP.NET and SML Web services. In addition to writing and speaking at conferences such as DevConnections, VSLive, and TechEd, Bill works closely with Microsoft as a Microsoft regional director. Bill is the technical architect for Lipper ( www.lipperweb.com ), a wholly owned subsidiary of Reuters, the international news and financial services company. He graduated from Western Washington University in Bellingham, Washington with a Russian language degree. When he isn ' t tinkering on the computer, he can usually be found at his summer house in Toivakka, Finland. You can reach Bill at evjen@yahoo.cpm.
Morgan Skinner began his computing career at a young age on the Sinclair ZX80 at school, where he was underwhelmed by some code a teacher had written and so began programming in assembly language. Since then he ' s used all sorts of languages and platforms, including VAX Macro Assembler, Pascal, Modula2, Smalltalk, X86 assembly language, PowerBuilder, C/C++, VB, and currently C# (of course). He ' s been programming in .NET since the PDC release in 2000, and liked it so much he joined Microsoft in 2001. He now works in premier support for developers and spends most of his time assisting customers with C#. You can reach Morgan at www.morganskinner.com.
Jay Glynn started writing software nearly 20 years ago, writing applications for the PICK operating system using PICK basic. Since then, he has created software using Paradox PAL and Object PAL, Delphi, VBA, Visual Basic, C, C++, Java, and of course, C#. He is currently a project coordinator and architect for a large financial services company in Nashville, Tennessee, working on software for the TabletPC platform. You can contact Jay at jlsglynn@hotmail.com.
Karli Watson is a freelance author and a technical consultant of 3form Ltd ( www.3form.net ) and Boost .net, and an associate technologist at Content Master ( www.contentmaster.com ). He started out with the intention of becoming a world - famous nanotechnologist, so perhaps one day you might recognize his name as he receives a Nobel Prize. For now, though, Karli ' s main academic interest is the .NET Framework, and all the boxes of tricks it contains. A snowboarding enthusiast, Karli also loves cooking, spends far too much time playing Anarchy Online and EVE, and wishes he had a cat. As yet, nobody has seen fit to publish Karli ' s first novel, but the rejection letters make an attractive pile. If he ever puts anything up there, you can visit Karli online at http://www.karliwatson.com.
See More