CompTIA Security+ Certification Kit Recommended Courseware: Exam SY0-301, 3rd Edition
ISBN: 978-1-118-06115-2
1656 pages
August 2011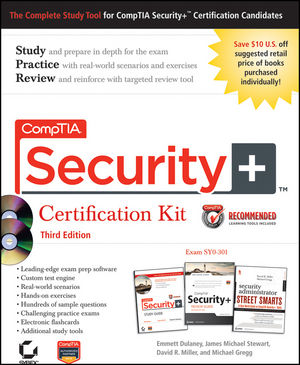 Value-priced kit helps you study, practice, and review for the new Security+ exam
This three-book, value-priced kit helps candidates prepare for the new version of the CompTIA Security+ exam (SY0-301). Offering 100% coverage of all exam objectives, exercises to hone critical skills, and tools for that last-minute review, this practical package not only prepares you for the exam, but also to handle some of the most challenging tasks that security professionals face on the job.
Three-book set includes CompTIA Security+ Study Guide, 5th Edition; CompTIA Security+ Review Guide, 2nd Edition; and Security Administrator Street Smarts: A Real World Guide to Essential Security+ Skills, 3rd Edition
Provides 100% coverage of all exam objectives for the CompTIA Security+ exam SY0-301
Offers practical examples and insights drawn from the real world, with step-by-step instructions on how to perform tasks most security administrators should expect to perform
Includes two CDs with practice exams, chapter review questions, electronic flashcards, and more
This all-in-one package is what you need to fully prepare for exam SY0-301, CompTIA's newest Security+ exam.
See More
Emmett Dulaney, Security+, A+, Network+, is an associate professor at Anderson University. He has written several certification books on Windows, Security, IT project management, and UNIX, and is coauthor of two of Sybex's leading certification titles: CompTIA Security+ Study Guide and CompTIA A+ Complete Study Guide. He is also a well-known certification columnist for Redmond magazine and CertCities.com. James Michael Stewart, Security+, CISSP, is a security expert, writer, trainer, and researcher who has authored numerous books and courseware. He is also a regular contributor to publications such as C|Net, InfoWorld, and Windows NT Magazine. David R. Miller, Security+, CISSP, MCSE+ Security, is a network engineer and IT security and project management consultant with more than two decades of experience. Michael Gregg, Security+, CISSP, CIW Security Analyst, is President of Superior Solutions, Inc., an IT security consulting firm that performs security assessments and penetration testing for Fortune 1000 firms.
See More
Learn more about