Bioremediation and Sustainability: Research and Applications
ISBN: 978-1-118-06284-5
Hardcover
438 pages
March 2012
US $195.00

Add to Cart
This price is valid for United States. Change location to view local pricing and availability.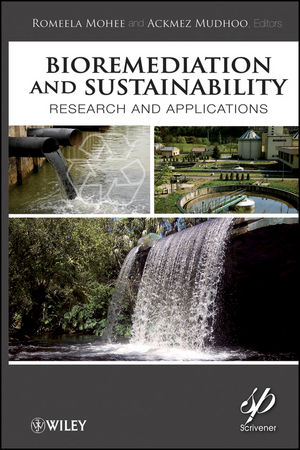 Other Available Formats:
E-book
Dedications
Preface
Acknowledgements
Editor
List of Contributors
Chapter 1. Elements of Sustainability and Bioremediation
Ackmez Mudhoo and Romeela Mohee
Chapter 2. Natural Attenuation
R. Ryan Dupont
Chapter 3. Anaerobic Digestion Processes
Steven I. Safferman, Dana M. Kirk Louis L. Faivor, Wei Wu-Haan
Chapter 4. Biosurfactants: Synthesis, Properties and Applications in Environmental Bioremediation
Ramkrishna Sen, Ackmez Mudhoo and Gunaseelan, D.
Chapter 5. Phytoremediation: An Efficient Approach for Bioremediation of Organic and Metallic Ions Pollutants
Divya Gupta, Lalit Kumar Singh, Ashish Deep Gupta and Vikash Babu
Chapter 6. Bioleaching
Leo G. Leduc and Garry D. Ferroni
Chapter 7. Biosorption of Heavy Metals – New Perspectives
Teresa Taveres and Hugo Figueiredo
Chapter 8. Biofiltration: Essentials, Research and Applications
Smita Raghuvanshi, Subhajit Majumder and Suresh Gupta
Chapter 9. Modeling and Implementation of Sustainable Remediation Based on Bioventing
Hillel Rubin, Eran Rubin, and Holger Schüttrumpf
Chapter 10. Bioremediation of Xenobiotics
Kamal Saxena, Gajendra Kumar Aseri, Ashish Deep Gupta and Vikash Babu
Index