E-book
A Guide to Graphic Print Production, 2nd Edition
ISBN: 978-1-118-06327-9
320 pages
December 2010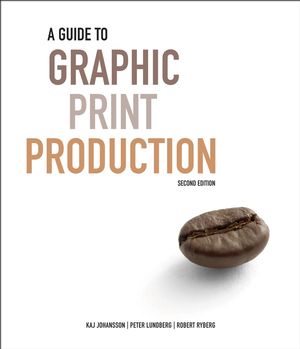 Now completely revised to reflect the latest technology and trends, A Guide to Graphic Print Production, Second Edition is the complete guide to the entire process of print production, from early stages of conception and planning, to the technical stages of manufacturing and off press processing. Structured around the graphic print production flow, essential material is included for all aspects of the process including coverage of computers, chromatics, layouts, digital images, image editing, prepress, paper, printing, finishing and binding, and legal issues.
Environmental issues are also covered.

This new edition includes more than 400 new illustrations and has been expanded by over 100 pages. A practical reference to keep at your fingertips, this new edition includes:
* A complete overview of the entire graphic print production workflow
* Illustrated descriptions of techniques and applications
* Checklists and step-by-step descriptions
* Advice, tips. Guidelines and recommendations for every stage of design
* A glossary with more than 1,500 graphic terms

A Guide to Graphic Print Production, Second Edition is an ideal resource for students and professionals of graphic design, print production, production technology, and visual communication.
See More
Chapter 1. Graphic Print Production.
Chapter 2. The Computer.
Chapter 3. Chromatics.
Chapter 4. Digital Images.
Chapter 5. Image Editing.
Chapter 6. Layout.
Chapter 7. Prepress.
Chapter 8. Paper.
Chapter 9. Printing.
Chapter 10. Finishing and Binding.
Chapter 11. Legal.
Chapter 12. Glossary.
See More
Kaj Johansson, Peter Lundberg and Robert Ryberg met when they were studying for a masters degree in Graphic Arts technology at the Royal Institute of Technology in Stockholm. All three have more than ten years of management experience from printing, prepress and production companies, as well as in Web design and design studios. Today they run Kapero AB, a consulting company that combines expertise from advertising agencies and the graphic arts industry. Kapero provides process consulting and helps companies to save money in the production of marketing communication.
See More