E-book
The Book of Road-Tested Activities
ISBN: 978-1-118-06362-0
420 pages
March 2011, Pfeiffer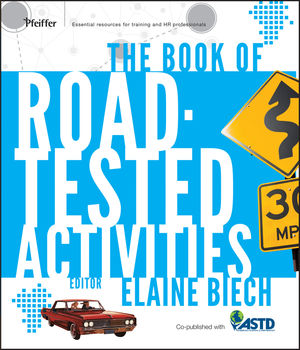 Training legend Elaine Biech oversees this edited collection of classic activities and games created by stalwarts of the learning community and used successfully for years by professional, front-line trainers. Spanning all types of activities—icebreakers, role-playing, simulations, and energizers—the book covers classic games and activities with new hooks and variations to encourage audience engagement and participation.
See More
Acknowledgments.
Introduction: Your Highway to Success.
Section I: Training Topics.
Chapter 1: Communication: The Most Vital Skill.
Story, Song, Poem, Saying (Barbara Carnes).
Do You See What I See? (Sharon Dera).
Perception Refl ection (Rodger Adair).
Tuscan Summer Evenings (Paul Signorelli).
Go for the Win (Curtis D. Curry).
Chapter 2: Listening: The Second Half of Communication.
No Advice Please (Cyndi Maxey).
I See You Listening (Jeannette Grace).
Do You Know How to Listen? (Luciana Rodrigues).
Yellow Ball (Rachel Stromberg Wical).
Are You Smiling? (Barbara Murray0.
Chapter 3: Customer Service and Sales: Imperative for Organizations.
Defi ning a Great Customer Experience (Andrew S. Cook).
What's in the News? (Steffi Paskow).
Objection Resolution (Lori Spangler).
Chapter 4: Creativity and Innovation: Most Important in a Complex World.
The Penny Story (Rodger Adair).
It's Not What You Think (Karen S. Sieczka).
Creative Storming (Sandi Ruther).
Creative Word Toss (Paul Signorelli).
Chapter 5: Diversity and Inclusion: Valuing Differences.
We Are All Different (Kathy Shurte).
Diversity Quilt (Rob Denton).
Are You This or That? (Marilyn Marles).
Cultural Networking (Kenny Sturgeon and Randall LaBranche).
Generation Genius (Jeanne Baer).
Chapter 6: Teamwork: Get to Know Your Team.
Conceptualization of You (Joni Goodman).
Team Speed-Dating (Cynthia Solomon).
Acquainted Antics (Jennifer Fetterhoff).
Team Commercial (Tara Denton).
Three Truths and a Lie (Luciana Rodrigues).
Ties That Bind (Lisa Downs).
Favorites Poker (Bob Zimel).
Personality Polaroid (Laura Mendelow).
Chapter 7: Teamwork: Working Together.
A Cat and a Fridge (Meri Villane).
Capital Team Building (Darrell B. Uselton).
Picture Your Ideal Team (Lisa Hughes).
People to People (Gale Mote).
Pipe Dream (Rob Denton).
Team Think-ING (Carolyn Nilson).
Build a Bridge (Rob Denton).
Planning with Spaghetti and Marshmallows (Patti Ulwelling).
Straw Towers (Deborah Covin Wilson).
Hula Hoop Challenge (Joseph Sanchez).
From Seeing to Achieving (Jeanne Baer).
Think on Your Feet (Sharon Dera).
Chapter 8: Leadership: What It Takes to Make a Leader.
The Great Leadership Debate (Lisa Rike).
What a Difference a Goal Makes (Barbara Crockett).
Create a Vision (Mel Schnapper).
Power of Questions (Lisa Rike).
Vote Trust with Your Feet (Cindy Phillips).
You Be the Ethicist (Jeff Furman).
Valuing the Values (P. Sethu Madhavan and Yehya M. Al Marzouqi).
Chapter 9: Solving Problems: Find Practical Solutions.
Dig It Up (Laurie Friedman).
Consult the Experts (Pam Nintrup).
Scenario Cards (Erin Miller).
Through the Looking Glass (Jo Lynn Feinstein).
Chapter 10: Professional Development: Skills for the Workplace.
Activating Enthusiasm (Antoinette S. Webster).
Stress Symphony (Sarah E. Hurst).
Zoom! (Renie McClay).
Puzzled Prospects (Jennifer Fetterhoff).
Performance Graffi ti Wall (Cynthia Solomon).
Part of the Big Picture (Sharon Dera).
Multitasking Stressors (Barbara Murray).
Get Ready for Interviewing (Ruth Soskin).
Section II: Training Tools and Techniques.
Chapter 11: Icebreakers: Getting to Know You.
What's Under Your Bed? (Christi Gilchrist).
Tell Me Something Good (Sharon Dera).
Getting to Know You . . . Getting to Know All About You (Sharon Dera).
What's in a Name? (Lisa Downs).
Roll of the Die (Davis M. Robinson).
Guess What We Have in Common (Sharon Dera).
Immodest Interview (J.T. Kostman).
Whose Snowball? (Amanda Luster).
Look What I Can Do! (Kenneth R. Stein).
Spell It Out! (Emily Crouch).
Chapter 12: Openings: Start with a BANG.
Rapid Rate of Change (Paul Terlemezian).
Focus Einstein Style (Paul Terlemezian).
Learning Is Valuable (Linda Kulp0.
Level the Playing Field (Patsi R. Turner).
Make a Wish (Beverley Taylor).
Great Expectations (Diana Hauman).
Defi nition BINGO (Mark Boccia).
I Said I Need to Learn (Lou Russell).
Let Go of Your Fears (Sandi Ruther).
Purging the Potholes (Antoinette S. Webster).
Jazzed (Barbara Murray).
Chapter 13: Reviewing: Make It Fun.
PPT Board Game Review (Deborah Thomas).
Throw Down Your Answer (Rebecca Judd).
Learning Stations (Sarah Burke).
Answer the Question and Keep the Card (Lori Spangler).
I'll Say It Myself (Sue Weller).
Tweet! Key Learnings (Kella B. Price).
Chapter 14: New Tools: Add a Twist to Your Techniques.
Speedy SMEs (Laura Mendelow0.
Remember Me? (Sharon Dera).
Product Knowledge Scramble (Sharon Dera).
Key Ideas (Lori Spangler).
Give Them the BlackBerries (Paul Terlemezian).
Tell Me About Yourself (Kella B. Price).
Deal with It (Tina Pressley).
Blog and RE-Blog (Lisa Haneberg).
Success Chain (J.T. Hostman).
Take Action (Sandi Ruther).
Dirty Training Room (Todd Whisenant).
Chapter 15: Online Learning: Tools to Try.
Twitter Introductions (Tara Denton).
Virtual Warm-Up (Darlene Christopher).
YouTube: A Human Touch (Joan McGrory).
Virtual Role Plays (Darlene Christopher).
Virtual Word Cloud (Joel Lamoreaux).
Online Review Wheel (Paul Venderley).
Chapter 16: Ideas for Your ASTD Chapter.
A Gift to Use (Kenneth R. Stein).
Between Meeting Meetings (Mary M. Rydesky).
Activity GPS.
About the Editor.
See More
Elaine Biech is president and managing principal of ebb associates inc, an organizational development firm that helps organizations work through large-scale change. Biech is the author and editor of four dozen books, including Pfeiffer Annuals of Training and Consulting, 90 World-Class Activities by 90 World-Class Trainers, Training for Dummies, and others, all published by Wiley. Biech is the recipient of ASTD's highest honor, the Gordon M. Bliss award.
See More