E-book
Quick Medical Terminology: A Self-Teaching Guide, 5th Edition
ISBN: 978-1-118-06373-6
336 pages
August 2011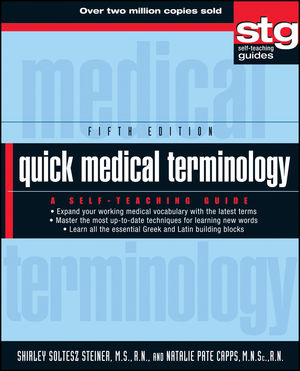 The new, updated edition of the classic medical terminology reference with over 200,000 copies sold
Quick Medical Terminology has long been relied on by students and medical professionals looking to build or update their medical vocabulary. This new fifth edition provides the tools and information needed to understand the simple logic behind hundreds of seemingly incomprehensible words, along with fresh exercises and current examples.
Features new review exercises and self-tests, more than 250 new terms, medical measurements, and up-to-date examples
Provides the tools necessary for building and sustaining a large working repertoire of medical terms
The reference of choice for health practitioners and others who need to expand, improve, or refresh their medical vocabularies
Filled with essential information presented in a clear and easy-to-follow format, Quick Medical Terminology is an invaluable learning tool and reference source.
See More
To the Reader
vii
Objectives of the Program xi
Pronunciation Key xiii
The Word-Building Strategy xv
List of Illustrations xxi
1 Basic Word Roots and Common Suffixes 1
2 More Word Roots, Suffixes, and Prefixes 21
3 Basic Anatomical Terms and Abnormal Conditions 43
4 The Genitals and the Urinary Tract 65
5 The Gastrointestinal Tract 93
6 The Heart 113
7 Symptoms, Diagnoses, Treatments, Communication, Qualifiers, and Statistics 137
8 Growth and Development, and Body Orientation 169
9 Gynecology, Pregnancy, and Childbirth 195
10 The Eye 223
11 The Respiratory Tract 237
Review by Body System Assessment 253
Review Sheets by Chapter 261
Final Self-Test I 291
Final Self-Test II 294
Appendix A: Medical Abbreviations 297
Appendix B: Forming Plurals 303
Appendix C: Medical Measurements 306
Index of Words and Word Parts 307
See More
SHIRLEY SOLTESZ STEINER, M.S., R.N., is an Instructional Technologist who has worked with leading corporations and innovators in the training field, including AT&T, Media Medica, Inc., and MetroMedia. She brings more than twenty years of experience to the design and development of self-instructional, classroom, and on-the-job training programs.
NATALIE PATE CAPPS, M.N.SC., R.N., is a Clinical Assistant Professor at the University of Arkansas for Medical Sciences (UAMS) College of Nursing. She is an Advisory Board Member at the Association of Women's Health, Obstetrics, and Neonatal Nurses for the state of Arkansas and an Advisory Board Member at the UAMS Women's Health Nurse Practitioner Graduate Program. In 2007, the National Student Nurses Association awarded the Breakthrough to Nursing Award to the Medical Service Outreach Program, which she created to provide medical care in developing countries.
See More