Textbook
The Financial Services Marketing Handbook: Tactics and Techniques That Produce Results, 2nd Edition
ISBN: 978-1-118-06571-6
208 pages
April 2012, ©2012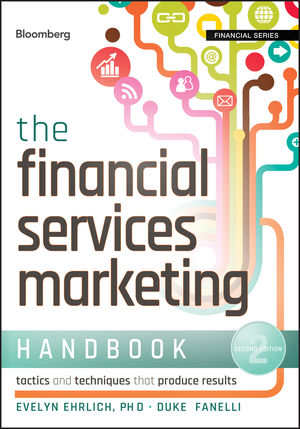 The roadmap to success for financial professionals using real-world examples, practical how-to's, and a structured approach to marketing strategy and tactics that covers the basics for beginners and inspires new ideas for marketing pros
The Financial Marketing Services Handbook, Second Edition gives sales and marketing practitioners the practical tools and best practices they need both to improve their job performance and their retail and institutional marketing strategies. The FSM Handbook guides marketing and sales professionals working in an industry characterized by cut-throat competition, client mistrust, transformative technologies, and ever-changing regulation, to understand the practical steps they must take to turn these threats into opportunities.
Providing invaluable information on how to target, win, and retain profitable customers, the book presents an overview of the basic marketing functions—segmentation, positioning, brand building, situational analyses, and tactical planning—as they relate specifically to the financial services industry. With up-to-date case studies, showing what has worked and, more tellingly, what hasn't, the book demonstrates how to effectively utilize the marketer's toolbox—from advertising and public relations to social media and mobile marketing.
Discusses how social media (Twitter, Facebook, blogs, review sites) impact branding and sales
Packed with new information on landing pages, email success factors, and smartphone apps
Demonstrates how behavioral economics affect marketing strategy
Case studies and charts are fully revised and updated
The financial industry is under intense pressure to improve profits, retain high-value clients, and maintain brand equity without straining budgets. The first edition has become an industry-standard reference book and The Financial Services Marketing Handbook, Second Edition gives sales and marketing professionals even more of the information they need to stretch value from each marketing dollar.
See More
Preface ix
Acknowledgments xi
INTRODUCTION
The Unique Challenges of Marketing Financial Services 1
Products or Services? 2
Psychology of Money 6
Third-Party Relationships 7
How End Users Select a Financial Services Provider 8
Legal and Regulatory Constraints 13
SECTION ONE: STRATEGIC MARKET PLANNING
CHAPTER 1 Segmentation 19
The End of Undifferentiated Markets 20
Methods of Segmentation 23
Finding Your Target Segments 29
CHAPTER 2 Positioning and Branding 33
Positioning Strategy and Differentiation 33
Creating a Distinctive Brand Identity 37
CHAPTER 3 The Market Plan 45
Researching Your Plan 46
The Elements of the Plan 48
SECTION TWO: MARKETING TACTICS
CHAPTER 4 Advertising 61
Media Selection 62
The Role of Your Ad Agency 63
Creating Effective Creative 65
Measuring Advertising Effectiveness 71
CHAPTER 5 Public Relations 75
Third-Party Endorsement 76
The Tools of Public Relations 77
Media Relations 79
Public Relations for Every Budget 82
Measurement 85
CHAPTER 6 Sponsorship and Event Marketing 87
What Is the Value of Sponsorships? 87
Cause Marketing 89
Activating a Sponsorship Program 91
Measuring the Effectiveness of Sponsorship 94
CHAPTER 7 Interactive Marketing 97
Techniques and Goals of Direct Methods 97
E-mail Marketing Considerations 98
Improving Response Rates 100
Mobile Marketing 104
CHAPTER 8 Social Media Marketing 107
Social Media Concerns 108
Effective Social Media Engagement 110
Social Networks as Marketing Channels 118
CHAPTER 9 Personal Selling 123
Traditional Relationships between Sales and Marketing 124
Bottom-Up Marketing 126
Changes in the Sales Distribution Model 130
Marketing Support Across the Sales Cycle 132
CHAPTER 10 Trade Shows and Seminars 135
Trade Shows 135
Seminars 139
CHAPTER 11 Relationship Marketing 145
Why Customer Retention Matters 146
Methods of Relationship Building 147
Loyalty Programs 152
Conclusion 157
Appendix: Applying Marketing Principles to Sales Practice 160
Building Your Plan 162
Practice Examples 164
About the Authors 191
Index 192
See More
Evelyn Ehrlich, PhD, is President of EC Communications, a marketing consulting firm that has specialized in financial services since 1982. Her clients have included AXA Advisors, BNY Mellon, JPMorgan Chase, Merrill Lynch, and other leading financial institutions. Ehrlich currently teaches financial services marketing at New York University and has previously taught at Baruch College and the University of Vermont. She has been a speaker for private companies and trade groups, including the Financial Planning Association, the Financial Communications Forum, the Financial Services Marketing Conference, and others.
Louis "Duke" Fanelli has more than thirty years of experience in marketing and financial services. He is currently Senior Vice President, Marketing and Communication for the ANA (Association of National Advertisers), the leading association for client-side marketers. Prior to joining ANA, he served as CMO for Edelman Financial Services, Fairfax, Virginia, a leading independent advisory firm. Earlier, he was a VP of Marketing for AXA Equitable Life Insurance Co., New York. Prior to joining AXA, he spent nearly fifteen years in various communication, marketing, and business leadership positions at Chase. He began his career as a journalist.
See More
More in this series