Textbook
Troika: A Communicative Approach to Russian Language, Life, and Culture, Activities Manual, 2nd Edition
ISBN: 978-1-118-06673-7
Wiley E-Text
September 2011, ©2012
US $29.50

Purchase This E-book and Learn More
This price is valid for United States. Change location to view local pricing and availability.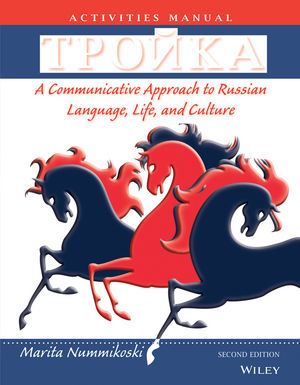 · The syllabus of Troika is based on topics and communicative situations that gradually increase in complexity. The topics are sequenced according to a feasible order of grammar presentation.
· Grammar is taught as a necessary tool for communication, not as a goal in itself. The chapters cover all points of grammar relevant to the topics, but avoid presenting grammar that cannot be substantiated by the topics. Still, Troika contains all the grammatical structures typically introduced in an elementary Russian textbook.
· The textbook is student oriented, and the topics introduce material that students can easily relate to. The leading idea of Troika is that, from the very beginning, students need to be able to talk about something real, instead of simply memorizing dialogues.
· Culture is both intertwined in the material itself and presented in separate cultural notes. Troika aims at comparing and contrasting cultures, rather than presenting the target culture only. Information is given about famous people, facts, geography, traditions, and history of the country, and students are asked to give the corresponding information about their own country.
· Readings are placed within the topics, rather than in separate sections.
· Illustrations in Troika are humorous and cater to the needs of visual learners.
· Highlighted information boxes stand out from the rest of the text and serve as conversation guidelines for students.