E-book
VMware vSphere For Dummies
ISBN: 978-1-118-06735-2
384 pages
February 2011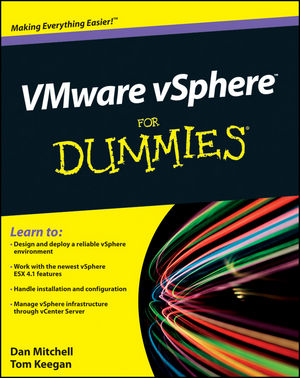 A plain-English guide to the market-leading virtualization and cloud computing technology
With virtualization, a single server can host dozens or hundreds of virtual machines running a variety of operating systems, and even hook them together in a virtual network or cloud infrastructure. This practical guide shows you how to create a virtual system using the VMware VSphere environment.  You'll find all the information you need to understand, design, and deploy one—without getting overwhelmed with technical detail. And once you're up and running, this book is the perfect reference for maintenance and troubleshooting issues.
Introduces you to virtualization and VMware's virtualization/cloud computing technology, the most recent version is VMware vSphere Shows you how to design a vSphere environment
Covers installation, deployment, management, maintenance, and troubleshooting
Provides what IT managers and system administrators need to roll out their first virtualized or cloud infrastructure, or to get up to speed on VMware's technology
Get up and running on the cloud with VMware vSphere For Dummies!
See More
Introduction.
Part I: Deciding on vSphere.
Chapter 1: Getting the Most Out of VMware vSphere.
Chapter 2: Introducing Virtualization.
Chapter 3: Exploring the Capabilities of VMware vSphere.
Chapter 4: Comparing Virtual Infrastructure 3.5 with vSphere 4.x.
Part II: Getting Ready for Sphere.
Chapter 5: Planning for a vSphere Rollout.
Chapter 6: Preparing Network and Storage for vSphere.
Part III: Installing Sphere.
Chapter 7: Installing VMware ESX 4 for the First Time.
Chapter 8: Building the vCenter Server.
Chapter 9: Getting Started with the vSphere Client.
Part IV: Configuring and Connecting vSphere.
Chapter 10: Configuring a New vCenter Server.
Chapter 11: Wiring Up vSphere to the Network, Virtually.
Chapter 12: Connecting vSphere to Shared Storage.
Chapter 13: Assembling an ESX Cluster.
Part V: Administering and Maintaining vSphere.
Chapter 14: Creating, Cloning, and Converting VMs.
Chapter 15: Organizing vSphere Resources.
Chapter 16: Events, Alarms, and Monitoring.
Chapter 17: A Quick Tour of Your Virtual Infrastructure.
Chapter 18: One of These Hosts Is Not Like the Other — Host Profiles.
Part VI: Tuning and Troubleshooting vSphere.
Chapter 19: Making VMs Play Fair with Resource Pools.
Chapter 20: Using vSphere Availability Features.
Chapter 21: Troubleshooting vSphere.
Part VII: The Part of Tens.
Chapter 22: Ten Tools to Make vSphere Management Easier.
Chapter 23: Ten Places to Improve Your vSphere Know-How.
Chapter 24: Ten Pro Tips for a Successful vSphere Deployment.
Index.
See More
Dan Mitchell
is Technical Director for DynamicOps and founder of www.StartsWithV.com, a Web site and blog focused on virtualization technology and the surrounding industry.
Tom Keegan has been working with VMware products for ten years and is certified as a VMware VCP and a Certified Advanced Professional on vSphere 4—Datacenter Design. He is a Technical Director at Fresenius Medical Care.
See More