E-book
Industrial Megaprojects: Concepts, Strategies, and Practices for Success
ISBN: 978-1-118-06750-5
384 pages
March 2011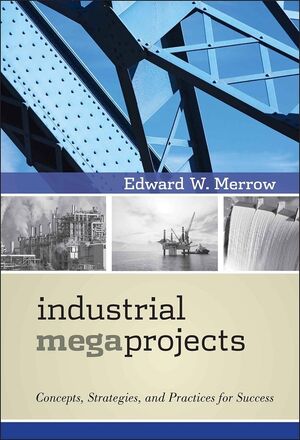 Avoid common pitfalls in large-scale projects using these smart strategies
Over half of large-scale engineering and construction projects—off-shore oil platforms, chemical plants, metals processing, dams, and similar projects—have miserably poor results. These include billions of dollars in overruns, long delays in design and construction, and poor operability once finally completed.
Industrial Megaprojects gives you a clear, nontechnical understanding of why these major projects get into trouble, and how your company can prevent hazardous and costly errors when undertaking such large technical and management challenges.
Clearly explains the underlying causes of over-budget, delayed, and unsafe megaprojects
Examines effects of poor project management, destructive team behaviors, weak accountability systems, short-term focus, and lack of investment in technical expertise
Author is the CEO of the leading consulting firm for evaluating billion-dollar projects
Companies worldwide are rethinking their large-scale projects. Industrial Megaprojects is your essential guide for this rethink, offering the tools and principles that are the true foundation of safe, cost-effective, successful megaprojects.
See More
Foreword JAMES B. PORTER, JR. vii
Acknowledgments xi
Introduction
Why Megaprojects Fail So Often: Seven Key Mistakes 1
Part One
Understanding the Projects
Chapter 1
Megaprojects—Creators and Destroyers of Capital 11
Chapter 2
Data and Methods 23
Chapter 3
Project Outcomes 37
Part Two
Making the Right Business Decisions Before You Commit
Chapter 4
The Opportunity-Shaping Process 53
Chapter 5
Devising the Shaping Strategy 91
Chapter 6
Megaprojects and Co rporate Governance 123
Part Three
Making the Right Project Decisions
Chapter 7
Basic Data Are Basic: Get Them Right Before You Start to Design 137
Chapter 8
Megaproject Teams: People Do Projects 159
Chapter 9
Organizing Megaproject Teams 185
Chapter 10
Project Defi nition: Getting the Front End Right 199
Chapter 11
Contracting 253
Chapter 12
The Control of Execution Risk 305
Chapter 13
Focus on Success 333
Glossary and Abbreviations 341
Notes 343
Index 347
See More
Edward W. Merrow is the founder and CEO of Independent Project Analysis, Inc., the world's leading consulting firm evaluating billion-dollar megaprojects of national and international oil, chemical, pharmaceutical, and major mineral companies, and benchmarking their cost, schedules, safety, startup, and operational performance. Before founding IPA in 1987, Merrow was a research analyst and later the director of the Energy Policy Program at the RAND Corporation.
See More