E-book
Physics I For Dummies, 2nd Edition
ISBN: 978-1-118-06755-0
408 pages
June 2011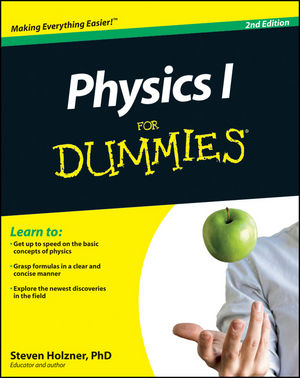 Physics I For Dummies, 2nd Edition (9780470903247) is now being published as Physics I For Dummies, 2nd Edition (9781119293590). While this version features an older Dummies cover and design, the content is the same as the new release and should not be considered a different product.


The fun and easy way to get up to speed on the basic concepts of physics
For high school and undergraduate students alike, physics classes are recommended or required courses for a wide variety of majors, and continue to be a challenging and often confusing course.
Physics I For Dummies tracks specifically to an introductory course and, keeping with the traditionally easy-to-follow Dummies style, teaches you the basic principles and formulas in a clear and concise manner, proving that you don't have to be Einstein to understand physics!
Explains the basic principles in a simple, clear, and entertaining fashion
New edition includes updated examples and explanations, as well as the newest discoveries in the field
Contains the newest teaching techniques
If just thinking about the laws of physics makes your head spin, this hands-on, friendly guide gets you out of the black hole and sheds light on this often-intimidating subject.
See More
Introduction.
Part I: Putting Physics into Motion.
Chapter 1: Using Physics to Understand Your World.
Chapter 2: Reviewing Physics Measurement and Math Fundamentals.
Chapter 3: Exploring the Need for Speed.
Chapter 4: Following Directions: Motion in Two Dimensions.
Part II: May the Forces of Physics Be with You.
Chapter 5: When Push Comes to Shove: Force.
Chapter 6: Getting Down with Gravity, Inclined Planes, and Friction.
Chapter 7: Circling around Rotational Motion and Orbits.
Chapter 8: Go with the Flow: Looking at Pressure in Fluids.
Part III: Manifesting the Energy to Work.
Chapter 9: Getting Some Work Out of Physics.
Chapter 10: Putting Objects in Motion: Momentum and Impulse.
Chapter 11: Winding Up with Angular Kinetics.
Chapter 12: Round and Round with Rotational Dynamics.
Chapter 13: Springs 'n' Things: Simple Harmonic Motion.
Part IV: Laying Down the Laws of Thermodynamics.
Chapter 14: Turning Up the Heat with Thermodynamics.
Chapter 15: Here, Take My Coat: How Heat Is Transferred.
Chapter 16: In the Best of All Possible Worlds: The Ideal Gas Law.
Chapter 17: Heat and Work: The Laws of Thermodynamics.
Part V: The Part of Tens.
Chapter 18: Ten Physics Heroes.
Chapter 19: Ten Wild Physics Theories.
Glossary.
Index.
See More
Steven Holzner, PhD is a former contributing editor at PC Magazine and has been on the faculty of both MIT and Cornell University. He is the author of Physics II For Dummies, Physics Essentials For Dummies, and Quantum Physics For Dummies.
See More