E-book
Endometriosis For Dummies
ISBN: 978-1-118-06810-6
362 pages
April 2011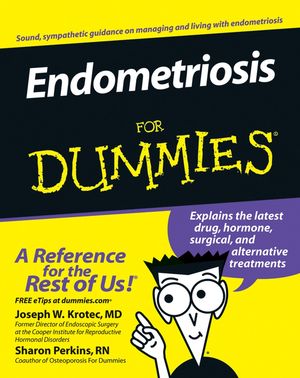 Get the empowering info that puts you in control


Take charge and take comfort in knowing how to live well with endometriosis

Diagnosing and living with endometriosis isn't easy, but this disease doesn't have to rule your life. This book helps you find out and recognize typical symptoms. Plus, you'll get up-to-date info on traditional and alternative treatments -- ranging from medications and surgeries to acupuncture and massages. The authors provide plenty of compassionate advice on dealing with the pain and emotional issues, so you can enjoy life.

Discover how to
* Evaluate treatment options
* Enhance your chances of getting pregnant
* Manage the pain
* Make lifestyle changes to minimize symptoms
* Deal with the emotional and financial challenges
See More
Introduction.
Part I: Endometriosis: What It Is and Isn't.
Chapter 1: The Lowdown on Endometriosis: A Quick Run-Through.
Chapter 2: Suspecting Endometriosis: Defining the Symptoms.
Chapter 3: Endometriosis: A Quick Review of Biology.
Chapter 4: Determining What Causes Endometriosis.
Part II: Digging Deeper into Endometriosis.
Chapter 5: Understanding Your Menstrual Cycle (And Its Relationship to Endometriosis).
Chapter 6: Looking Closer at How Endometriosis Also Affects Other Body Parts.
Chapter 7: Endometriosis and Infertility: Having a Baby (Or Trying To).
Chapter 8: Finding the Right Doctor.
Chapter 9: Do You Have Endometriosis? Your Initial Exam and Diagnosis.
Part III: Treating Endometriosis.
Chapter 10: Relying on (Prescription) Drugs to Treat Endometriosis.
Chapter 11: Contemplating Surgery to Improve Your Endometriosis.
Chapter 12: Considering Alternative Therapies and Remedies to Relieve the Pain.
Chapter 13: Managing the Chronic Physical Pain.
Chapter 14: All Things Teens: Diagnosing, Treating, and Coping with Endometriosis.
Part IV: Living with Endometriosis.
Chapter 15: Coping with Endometriosis and Your Emotions.
Chapter 16: Changing Your Lifestyle When You Have Endometriosis.
Chapter 17: Just for Friends and Family: Help and Support.
Part V: The Part of Tens.
Chapter 18: Ten Myths about Endometriosis.
Chapter 19: Ten (Or So) Trends in the Future of Endometriosis.
Chapter 20: Ten Strategies to Help with the Pain.
Part VI: Appendixes.
Appendix A: Glossary.
Appendix B: Resources and Support.
Index.
See More
Dr. Joseph W. Krotec
from Philadelphia, Pennsylvania, has practiced general gynecology, reproductive endocrinology, and gynecologic surgery specializing in endoscopic surgery. He has instructed peers, residents, and students for more than 25 years and has been Chair of Obstetrics and Gynecology, Chief of Gynecology, and Director of Endoscopic Surgery at various institutions. Dr. Krotec recently won the Milton Goldrath, M.D. Award for excellence in teaching.
Sharon Perkins is an RN with 20 years of experience in maternal child health. She currently works for retinal specialists. Sharon has five children, two daughters-in-law, one son-in-law, and two perfect grandchildren. Oh, and a retired husband. This is her fourth For Dummies book.
See More