E-book
Baby and Toddler Sleep Solutions For Dummies
ISBN: 978-1-118-06825-0
288 pages
April 2011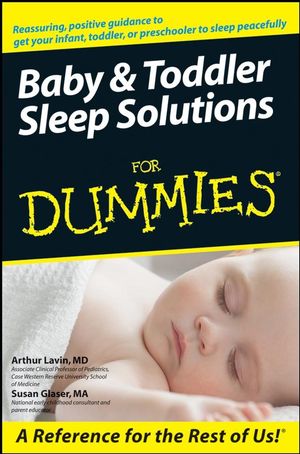 Understand the sleep effects of life changes, prematurity, and health issues

Find your way to your family's best sleep solutions!

Do you wonder whether you'll ever sleep through the night again? Relax! This reassuring guide provides the essential information you need to help your kids to go to sleep -- and stay asleep -- all night long, whatever their age or stage of development. So cheer up -- a good night's sleep is just pages away!


* Foster healthy sleep patterns for life
*

Tailor your approach to your child's personality
*

Establish bedtime rules in a nurturing way
*

Handle snoring, night terrors, bedwetting, and other distressing issues
See More
Introduction.
Part I: From A to ZZZZZ: The Basics of Sleep.
Chapter 1: Taking Charge of Your Dream Team.
Chapter 2: Understanding the Importance and Stages of Slumber.
Chapter 3: Personality: A Big Piece of the Puzzle.
Part II: I Have a Dream: Winning Sleep Strategies for Every Age.
Chapter 4: Growing and Changing: Sleep from Birth to 6 Months.
Chapter 5: Getting the Hang of It: Sleep from 6 to 12 Months.
Chapter 6: Baby on the Move: Sleep from 12 to 18 Months.
Chapter 7: The Wake-Up Call: Sleep from 18 Months to 2 Years.
Chapter 8: The Big Tug of War: Sleep from 2 through 3 Years.
Part III: Sleep Decisions that Involve the Whole Family.
Chapter 9: Keeping Baby Nearby? Co-Sleeping with Your Little One.
Chapter 10: Move Over, Darlin'! When a Sibling Enters the Picture.
Chapter 11: Your Dream Team Grows: Preschool, Day Care, and Sitters.
Part IV: Dealing with Special Circumstances.
Chapter 12: Sleep Tips for Families with Premature Babies.
Chapter 13: Sneezes, Sniffles, Aches, and Pains.
Chapter 14: When Life Changes Keep Your Child Awake.
Part V: The Part of Tens.
Chapter 15: Ten Tips for Getting Your Tot to Sleep.
Chapter 16: Ten Pitfalls to Avoid at Sleepytime.
Chapter 17: More than Ten Great Bedtime Stories and Songs.
Appendix: Sleep Logs.
Index.
See More
Arthur Lavin, M.D., F.A.A.P.,
is a pediatrician who's been in private practice for over 20 years and is also an associate clinical professor of pediatrics at Case Medical School in Cleveland, Ohio. He was trained and then taught at Harvard and MIT in pediatrics and the specialty of newborn medicine and has published original research in such journals as
Science.
He is also the coauthor of
Who's the Boss: Moving Families from Conflict to Collaboration
(Collaboration Press, 2006), a book presenting a new paradigm of parenting with specific guidance on managing the most common challenges of parenting young children such as toilet training, sibling rivalry, and discipline.
Lavin's professional experience includes training by T. Berry Brazelton, M.D. and Mel Levine, M.D. He has served on a number of national committees of the American Academy of Pediatrics, helping to create standards for community pediatrics and to draft manuals for teaching American pediatricians to care for children with special health care needs. In 1998, Lavin accepted an invitation by the United States government to participate in an overseas health partner mission. In addition, Microsoft showcased Lavin's office, Advanced Pediatrics, in its launch of Office 2003. He is married and has three children.
Susan B. Glaser, M.A., is an educational psychologist and early childhood educator with more than 30 years of experience in supporting families of young children. She graduated from Case Western Reserve University, where she worked with noted educator Jane Kessler, Ph.D. in a school for children with special needs; she received her master's degree from John Carroll University.
Glaser served for 15 years as the Director of Early Childhood Services for the Jewish Community Center of Cleveland. She currently works as a national consultant, traveling the United States and Canada to assess early childhood centers and present workshops for parents and teachers. She contributes to the parent Web site of the national association of Jewish Community Centers.
Glaser is the chairperson of the Infant/Toddler Network of the Coalition for Alternatives in Jewish Education (CAJE), a national group devoted to furthering and improving education. She is also a member of the Universal Pre-K Committee of Cuyahoga County, Ohio. Her articles on parenting appear in newspapers and national publications in the field of early child development. She coauthored Who's the Boss: Moving Families from Conflict to Collaboration (Collaboration Press, 2006) with Dr. Lavin. Glaser is married and has three grown children.
See More