E-book
COPD For Dummies
ISBN: 978-1-118-06843-4
338 pages
March 2011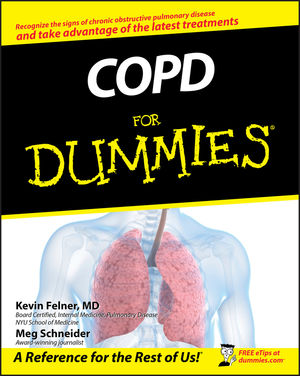 Make your home COPD friendly
Your reassuring guide to understanding and managing COPD
and getting on with your life
Want to know more about COPD? This straightforward guide provides clear information about this progressive disease, explaining how to recognize the warning signs, get diagnosed, and choose the best treatment. You'll see how diet, exercise, and medication affect your symptoms and make your life easier.
Discover how to:
Know your risk factors
Find the right doctors
Quit smoking, start exercising, and change your diet
Improve your overall health
Prepare for emergencies
Help loved ones with COPD
See More
Introduction.
Part I: Every Breath You Take: The Who, What, and Why of COPD.
Chapter 1: Understanding COPD.
Chapter 2: How Your Lungs Work.
Chapter 3: COPD Risk Factors.
Part II: Catching Your Breath: Treating COPD.
Chapter 4: The Diagnosis and What It Means.
Chapter 5: The Emotional Impact of COPD.
Chapter 6: Building Your Healthcare Team.
Chapter 7: COPD Treatment Goals.
Chapter 8: Drug Treatments.
Chapter 9: Surgery and Alternative Treatments.
Part III: In the Next Breath: Managing Your Overall Health.
Chapter 10: The First, Best Thing You Can Do: Quit Smoking.
Chapter 11: Nutrition and Weight Management.
Chapter 12: Getting Motivated to Move.
Part IV: Breathing Easier: Living with COPD.
Chapter 13: A Day in Your Life with COPD.
Chapter 14: Making Your Home You-Friendly.
Chapter 15: Clearing the Air at Home.
Chapter 16: Preparing for Emergencies.
Chapter 17: Helping a Loved One with COPD.
Part V: The Part of Tens.
Chapter 18: Ten Things to Avoid if You Have COPD.
Chapter 19: Ten Myths about COPD.
Chapter 20: Ten Strategies for Coping with COPD.
Chapter 21: Ten (Or So) Health Factors Linked with COPD.
Glossary.
Index.
See More
Kevin Felner, MD:
Kevin Felner, MD, an assistant professor at New York University School of Medicine in New York City, is an expert in pulmonary and critical care medicine. He served a three-year fellowship at New York University Medical Center in pulmonary/critical care medicine and has taught medical students in his specialty (Department of Internal Medicine/Division of Pulmonary and Critical Care) since 2004. He has earned three Teacher of the Year awards during his tenure at NYU, including being named best teacher of the Division of Pulmonary and Critical Care in 2005.
Before joining the NYU teaching staff, he taught at UT Southwestern Medical School and Mount Sinai Medical School, where he participated in pilot programs introducing first- and second-year medical students to effective patient interaction.
His research on lung and respiratory illnesses has been presented to the American Thoracic Society and published in journals such as the
International Journal of Surgical Pathology
.
Meg Schneider: Meg Schneider is an award-winning writer with more than two decades of experience in television, radio, and print journalism and public relations. Meg has authored or coauthored several books, including The Birth Order Effect for Couples (Fair Winds Press) and The Good-For-You Marriage (Adams Media). Her other book credits include two books for writers and one on casino gambling.
Meg's journalism honors include awards from the Iowa Associated Press Managing Editors, Women in Communications, the Maryland-Delaware-D.C. Press Association, Gannett, the New York State Associated Press, and the William Randolph Hearst Foundation.
See More