E-book
Foreclosure Self-Defense For Dummies
ISBN: 978-1-118-06844-1
360 pages
April 2011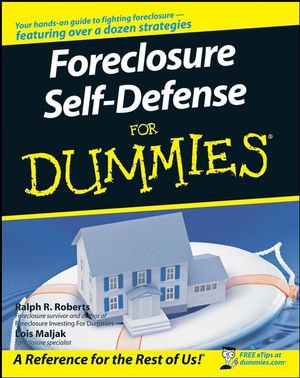 Facing foreclosure? You need to do three things: stop worrying about why this has happened to you; resolve to fight the foreclosure and save your home; and read
Foreclosure Self-Defense For Dummies.
It delivers the knowledge, strategies, and tactics you'll need to take command of your situation and achieve the best possible outcome.
This practical, no-nonsense guide helps you size up your options and increase your chances of saving your home. You'll find out how to delay foreclosure, form a plan of attack, negotiate solutions with your lender, and restore your financial health. You'll also find field-tested strategies for dodging the foreclosure trap, getting out from under a house you really can't afford, and finding help where you might least expect it. Discover how to:
Regain your emotional composure
Confront your foreclosure head-on
Protect your rights
Assess your situation and weigh your options
Touch base with key people who can help you
Stop the financial bleeding
Team up with your lender to find solutions
Work out a refinancing deal with another lender
Avoid quick-fix schemes and scams
Cash out before it's too late
Recover from foreclosure
Re-establish your credit
Complete with a handy cheat-sheet to help you keep your most important tasks in the front of your mind Foreclosure Self-Defense for Dummies gives you the moral support, commonsense guidance, and expert advice you need to make the best of this difficult situation.
See More
Foreword.
Introduction.
Part I: Warming Up for Your Foreclosure Fight.
Chapter 1: Digging Into and Out of the Foreclosure Hole.
Chapter 2: Wrapping Your Brain Around the Foreclosure Process.
Chapter 3: Regaining Your Emotional Composure.
Chapter 4: Touching Base with Key People Who Can Assist You.
Chapter 5: Deciphering Your Mortgage and Other Documents.
Part II: Confronting Foreclosure Head On.
Chapter 6: Getting a Handle on Your Current Situation.
Chapter 7: Sizing Up Your Options and Exit Strategies.
Chapter 8: Stopping the Financial Bleeding.
Chapter 9: Steering Clear of Quick-Fix Schemes and Scams.
Part III: Digging Your Way out of the Foreclosure Pit.
Chapter 10: Beating the Foreclosure Rap with Bankruptcy.
Chapter 11: Haggling with Your Lender in Pre-Foreclosure.
Chapter 12: Borrowing Your Way out of Foreclosure.
Chapter 13: Cutting Your Losses: Unloading Your House.
Chapter 14: Fiddling While Rome Burns: The Do-Nothing Approach.
Chapter 15: Regaining Your Financial Footing after Foreclosure.
Part IV: The Part of Tens.
Chapter 16: Ten Delay Tactics.
Chapter 17: Ten Scams and the Scumbags Who Perpetrate Them.
Chapter 18: Ten Ways to Rebuild Your Life after Foreclosure.
Glossary.
Index.
See More
Ralph R. Roberts
is a master of transforming crises into opportunities. After losing one of his own homes to foreclosure early in his career, Ralph added a foreclosure division to his real estate business. Its goal was to assist distressed homeowners facing foreclosure and earn a profit in the process. Since then, Ralph and his team have led thousands of families through the foreclosure maze, informing them of their options, steering them clear of the most common pitfalls, and empowering them with the information required to get on with their lives. Ralph is the official spokesperson for Guthy-Renker Home (HurryHome.com), is on the board of directors for the Macomb County Chapter of Habitat for Humanity, and has a host of Web sites and blogs, including FlippingFrenzy.com and GetFlipping.com.
Ralph is also an experienced mentor, coach, consultant, and author who has penned several successful books, including
Flipping Houses For Dummies
(Wiley),
Foreclosure Investing For Dummies
(Wiley),
Advanced Selling For Dummies
(Wiley), and
Protect Yourself from Real Estate and Mortgage Fraud: Preserving the American Dream of Homeownership
(Kaplan). To find out more about Ralph Roberts, visit www.aboutralph.com.
Lois "Lane" Maljak is Ralph's second in command and a foreclosure specialist in her own right. Lois formerly ran Ralph's foreclosure department, HomeSavers, during which time she met with hundreds of distressed homeowners every year, assisting people in foreclosure and pre-foreclosure, counseling them on their available options, and helping them leave a difficult situation in their past. Lois has a combination of compassion and expertise that makes her uniquely qualified to counsel hapless homeowners.
Paul Doroh is also a foreclosure expert working directly with clients and prospective clients at Ralph Roberts Realty. In addition to meeting with homeowners who are facing foreclosure, Paul represents the company at foreclosure auctions. He has been thoroughly trained in the Ralph Roberts approach to foreclosure investing — assisting people through the foreclosure process so they can gain more control of the situation and improve their outcome.
Joe Kraynak is a freelance author who has written and coauthored numerous books on topics ranging from slam poetry to computer basics. Joe teamed up with Dr. Candida Fink to write his first book in the For Dummies series, Bipolar Disorder For Dummies. He has since teamed up with Ralph Roberts to coauthor Flipping Houses For Dummies, Foreclosure Investing For Dummies, and Advanced Selling For Dummies, and with Dr. Robert Wood to coauthor Food Allergies For Dummies.
See More