E-book
Conquering Childhood Obesity For Dummies
ISBN: 978-1-118-06860-1
338 pages
April 2011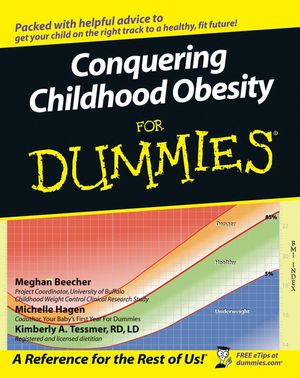 Features fun, kid-friendly activities to get them moving


A positive and safe plan for lifetime weight management

Concerned about your child's weight? This practical guide provides effective strategies for improving nutrition, increasing physical activity, and dealing with weight issues at home and in the classroom. You'll see how to change your family's lifestyle, help your child make healthier choices (and stick to them!), and foster a lifetime commitment to health and fitness.

Discover how to
* Introduce good eating habits
* Keep your family fit and active
* Prepare healthier meals
* Maintain your child's weight loss
* Find outside professional support
* Fix over 30 tasty recipes
See More
Introduction.
Part I: Understanding Childhood Obesity.
Chapter 1: Looking for Answers.
Chapter 2: The Growing Problem of Childhood Obesity.
Chapter 3: Facing the Physical Effects of Childhood Obesity: The Damage You Don't See.
Chapter 4: Hurting from the Inside Out: The Emotional Effects of Childhood Obesity.
Part II: The Weight Is Over: Making Changes, One at a Time.
Chapter 5: Assessing Your Child's Health.
Chapter 6: Overhauling the Family's Lifestyle.
Chapter 7: The Basics of Good Nutrition.
Chapter 8: Planning Your Menu and Shopping.
Chapter 9: Cookin' Up a Healthier Lifestyle.
Chapter 10: Move It and Lose It: Getting Physical.
Part III: Managing, Troubleshooting, and Keeping the Weight Off.
Chapter 11: Supporting Your Child's Weight Loss.
Chapter 12: When You Can't Be There: Conquering Tempting Scenarios.
Chapter 13: Dealing with a Child Who Hasn't Bought into the Program.
Chapter 14: Bringing In Outside Help.
Chapter 15: Keeping the Weight Off .
Part IV: The Part of Tens.
Chapter 16: Ten Reasons Lifestyle Changes Will Make a Difference.
Chapter 17: Ten Tips for Maintaining Weight Loss.
Chapter 18: Ten Ways to Cut Fat and Calories from Your Family's Diet.
Chapter 19: Ten Fun Ways to Fit Exercise Into Your Child's Day.
Part V: Appendixes.
Appendix A: Recipes.
Appendix B: Weight Chart and Exercise Log.
Index.
See More
Kimberly A. Tessmer, RD, LD,
is a registered dietitian and freelance writer who currently owns and operates Nutrition Focus, a consulting company specializing in nutrition and weight management. She has authored numerous books and has written articles for several national magazines. Kim is a member of the American Dietetic Association and the ADA Practice Group "Nutrition Entrepreneurs." Kim resides in Cleveland, OH, with her husband Greg and daughter Tori.
Meghan Beecher is a Project Coordinator in the Childhood Weight Control Clinical Research Study at the University of Buffalo, a two-year study funded by a grant from the National Institutes of Health and run by Dr. Leonard Epstein, a leading expert in the field of childhood obesity. The study teaches obese children and their parents how to adopt a healthier lifestyle, which includes instruction about portion control, counting calories, and exercise. Prior to her involvement in the UB study, Meghan taught preschool and was also employed by the Montana Conservation Corps (a branch of Americorps), where she introduced adolescents to outdoor activities as a means of improving their lives. Because she is an avid runner, Meghan is well aware of the benefits of exercise and nutrition and was eager to find a career that would combine her love of children with her interest in health. When the UB study concludes, Meghan, a graduate of Xavier University with a BA in Social Work, plans on continuing in this field, educating children on the merits of a healthy lifestyle.
Shelly Hagen is the co-author of Baby's First Year For Dummies and has also authored eight books in the bestselling Everything series, including The Everything Destination Weddings Book, The Everything Father of the Bride Book, and The Everything Body Language Book. As a freelance writer and editor, Ms. Hagen has also performed extensive ghostwriting and book editing work, and has written features for The Saratogian daily newspaper. She has a degree in Literature from SUNY Empire State and lives in Saratoga Springs, NY, with her husband, Mike, and three sons, Sam, Hal, and Nolan.
See More