E-book
Writing Copy For Dummies
ISBN: 978-1-118-06993-6
384 pages
May 2011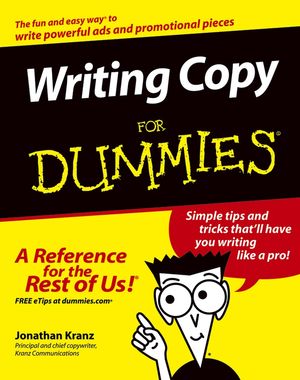 Tips on writing to consumers and business-to-business

Create captivating, results-oriented, sales-generating copy

Need to produce winning copy for your business? This fast, fun guide takes you through every step of a successful copywriting project, from direct mail, print ads, and radio spots to Web sites, articles, and press releases. You'll see how to gather crucial information before you write, build awareness, land sales, and keep customers coming back for more.

Discover How To:
* Write compelling headlines and body copy
* Turn your research into brilliant ideas
* Create motivational materials for worthy causes
* Fix projects when they go wrong
* Land a job as a copywriter
See More
Introduction.
Part I: Understanding Copywriting Basics.
Chapter 1: Writing Copy: Capturing Hears, Minds, and Money.
Chapter 2: Marching Ahead with Copywriting Fundamentals.
Chapter 3: Looking for Ideas: Finding Inspiration through Investigation.
Part II: Direct Response Writing That Makes the Sale….
Chapter 4: Working with the Power of Direct Response.
Chapter 5: Writing Direct Response Letters That Win Business.
Chapter 6: Creating Direct Response Brochures That Sizzle and Sell.
Chapter 7: Completing the Direst Response Package.
Chapter 8: Going It Alone: Self-Mailers, Postcards, Catalogs, and More.
Chapter 9: Blasting Away with E-Mail.
Part III: Building Awareness of Your Business.
Chapter 10: Basic Branding 101.
Chapter 11: Writing High-Powered Ads for Your Business.
Chapter 12: Creating Effective Press Releases and Press Kits.
Chapter 13: Gaining Credibility with Outstanding Articles.
Part IV: Managing the Sales Support System.
Chapter 14: Creating Web Sites That Attract and Hold Customers.
Chapter 15: Crafting Collateral: Using Supporting Materials.
Chapter 16: Writing to Sell a Business, Not a Consumer.
Part V: Looking at Special Copywriting Situations.
Chapter 17: Raising Money, Getting Votes, and Promoting Health and Education.
Chapter 18: Solving Problems When Good Copy Goes Wrong.
Chapter 19: So You Want to Be a Copywriter.
Part VI: The Parts of Tens.
Chapter 20: Ten Things You Should Always Do Before Writing.
Chapter 21: Ten Cures for Common Copywriting Problems.
Chapter 22: Ten Fast Ways to Find Copywriting Inspiration.
Index.
See More
Jonathan Kranz is the principal of Kranz Communications, an award-winning writing firm that helps leading agencies tackle their most difficult marketing, advertising, and public relations assignments in numerous consumer and B2B industries.
See More