Columbine a Decade Later: The Prevention of Homicidal Violence in Schools: New Directions for Youth Development, Number 129
ISBN: 978-1-118-07274-5
144 pages
May 2011, Jossey-Bass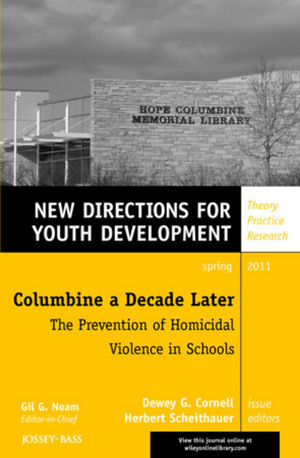 Issue Editors' Notes (
Dewey G. Cornell, Herbert Scheithauer
).
Executive Summary.
1. Student homicidal violence in schools: An international problem (Rebecca Bondü, Dewey G. Cornell, Herbert Scheithauer)
In the decade following the Columbine shooting there have been at least 40 similar events in other countries. This article addresses definitional issues and research needs concerning the international problem of studentperpetrated homicidal violence in schools.
2. Cultural and peer influences on homicidal violence: A Finnish perspective (Tomi Kiilakoski, Atte Oksanen)
Two school shootings in Finland illustrate multiple ways in which Internet forums have extended the impact of school shootings across cultural and international boundaries. Both cases involved emotionally troubled young men who identified with the Columbine attackers and aspired to attain fame through similar acts of violence.
3. A developmental perspective on the Virginia Student Threat Assessment Guidelines (Dewey G. Cornell)
The Virginia Student Threat Assessment Guidelines were developed to help school-based teams evaluate student threats and take appropriate preventive action without resorting to the use of zero tolerance discipline. A series of field test and quasi-experimental studies support the viability and positive effects of this approach.
4. Prevention of homicidal violence in schools in Germany: The Berlin Leaking Project and the Networks Against School Shootings Project (NETWASS) (Vincenz Leuschner, Rebecca Bondü, Miriam Schroer-Hippel, Jennifer Panno, Katharina Neumetzler, Sarah Fisch, Johanna Scholl, Herbert Scheithauer)
Since 1999, Germany has experienced at least twelve serious cases of targeted school violence. The Berlin Leaking Project examined the viability of preventive efforts based on early identification of leaking behavior that often precedes targeted school attacks, and now the new NETWASS project will test a training program and intervention strategy based on those findings.
5. Procedures for preventing juvenile violence in Switzerland: The Zurich model (Jérôme Endrass, Astrid Rossegger, Frank Urbaniok, Arja Laubacher, Christine Schnyder Pierce, Konstantin Moskvitin)
The Swiss legal system places strong emphasis on risk assessment and treatment of potentially violent offenders, especially after the 2001 Zug massacre. A case study of a risk-management program for a dangerous seventeen-year-old illustrates this approach.
6. The role of law enforcement in schools: The Virginia experience—A practitioner report (Steven Clark)
With a standardized training program since 1999, the state of Virginia has law enforcement officers working in approximately 88 percent of its 631 secondary schools. Based on this experience, the state training coordinator describes how police officers should be selected and prepared to work as school resource officers.
7. Safe2Tell: An anonymous 24/7 reporting system for preventing school violence (Susan R. T. Payne, Delbert S. Elliott)
In response to the Columbine shooting, the state of Colorado established an anonymous reporting system for threats of violence, bullying, and other concerns. This article describes how the program has grown to the point that it now receives more than 100 calls per month. A series of case examples illustrate its success in responding to threatening situations, including twenty-eight potential school attacks.
8. Recurrent issues in efforts to prevent homicidal youth violence in schools: Expert opinions (Karen E. Dill, Richard E. Redding, Peter K. Smith, Ray Surette, Dewey G. Cornell)
School shootings have repeatedly raised questions about the contributory role of bullying and entertainment violence, how news-media publicity might produce copycat crimes, and whether stiffer criminal sanctions might have a deterrent effect. Experts on these topics present their opinions of the current knowledge base.
Index.
See More