A Fundraising Guide for Nonprofit Board Members
ISBN: 978-1-118-07356-8
312 pages
February 2012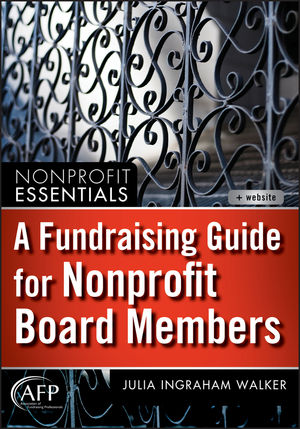 Everything you need to know as a nonprofit board member to raise more money and help your organization succeed in meeting its goals
Engaging and informative, this practical guide to fundraising contains valuable insights that nonprofit boards need to succeed in raising money in today's dynamic economic environment. While written expressly for board members, this useful handbook also provides advice to executive directors and advancement staff on how to partner with your board to build an unstoppable fundraising team.
A Fundraising Guide for Nonprofit Board Members shows you how to raise more money by building board leadership and skills in fundraising. This book covers it all—the board's leadership role in fundraising; how to organize and train your board to raise funds; building a team with board and staff; raising funds for operations, major gifts and capital campaigns; how to ask for gifts; plus a guide for conducting a board retreat that will lead to fundraising success.
Demystifies the ask by providing a straightforward guide on how to ask for, and close, gifts
Features case studies, real life examples, and checklists in an easy to reference format
Offers sample materials for a board retreat on building the successful fundraising team
Also by Julia Ingraham Walker: Nonprofit Essentials: Jump-Starting the Stalled Fundraising Campaign
Entertaining, practical, and easy to use, this book will become a must-read for all board members, executive directors, and staff who want to build an effective fundraising team.
See More
Preface xiii
Acknowledgments xxi
About the Author xxiii
1 Board Leadership in Fundraising 1
A Challenging Economic Environment 1
The Board's Leadership Role in Fundraising 2
Building a Fundraising Board 8
The Fiduciary Role of the Nonprofit Board 12
Summary 19
2 Setting the Pace with Board Giving 21
Giving and Asking at the Board Level 21
Develop a Plan for Board Giving 28
Prepare for Your Fundraising Role 33
Summary 42
3 Getting Ready to Fundraise 43
Define Organizational Needs 43
Strategic Planning and the Board 45
Fundraising for Current Operations 48
Planning for Comprehensive Campaigns 52
Getting Organized for Fundraising 56
Training Board Members to Fundraise 62
Summary 68
4 Building the Team 69
Who Is on the Team? 69
How to Hire: What to Look for in a Chief Advancement Officer 78
Standards for Staffing and Cost per Dollar Raised 87
Fundraising Consultants 89
Summary 96
5 The Annual Fund 99
Raising Money for Operations 99
Annual Fund: Setting the Goal 100
Annual Fund: The Moving Parts 103
Making the Case for the Annual Fund 110
Galas and Fundraising Events 114
Leadership Annual Fund Programs 114
Summary 128
6 Major Gifts and Mega-Gifts 131
An Introduction to Major Gifts 131
Who Are Our Prospects? 136
Major Gift Prospects: What to Look For 139
Cultivation 144
Transformational Gifts: Giving at the Top 148
Summary 159
7 How to Ask for and Close a Gift 161
Preparing for a Successful Call 161
The Five Elements of the Successful Ask 165
Common Issues in Negotiating and Closing Gifts 172
Summary 182
8 Getting Ready for a Fundraising Campaign 183
An Introduction to Fundraising Campaigns 183
Setting Realistic Goals 192
Campaign Structure: Phases, Timetables, and Gift Tables 198
Summary 208
9 Fundraising Campaigns 209
Campaign Leadership Roles 209
Board Leadership in a Campaign 215
Campaign Volunteer Structure 218
Making the Case 226
Campaign Recognition and Pricing 229
Summary 239
10 Additional Sources of Giving 241
Giving from Foundations 242
Corporate Philanthropy 248
Planned Giving: Add to Your Fundraising Toolbox 251
Stewardship Programs 263
Summary 267
Appendix 269
Materials for a Board Retreat on Fundraising 269
Materials for a Board Training Exercise on Fundraising 289
Glossary of Basic Fundraising Terms 297
Index 303
See More
Julia Ingraham Walker has been active in fundraising in New Orleans and the surrounding region for over twenty-five years. She served as vice president for advancement at Tulane University, where she directed a successful $250 million campaign. For the past twelve years, Julia has worked as an independent fundraising consultant on a regional and national basis. While her specialty has been consulting on capital campaigns, she became very active in a variety of rebuilding efforts in the calamitous post-Katrina period in New Orleans. Her clients include a diverse array of local, regional, and national nonprofits, including independent schools, charter schools, animal welfare organizations, museums, parks, and arts and cultural organizations. She was named New Orleans Outstanding Fundraising Executive by the Association of Fundraising Professionals for her work at Tulane and is the author of three other books published by Wiley. Julia's ongoing work with numerous nonprofit boards inspired her to write this guide for board members.
See More
More in this series