The 2012 Pfeiffer Annual: Training
ISBN: 978-1-118-07390-2
352 pages
November 2011, Pfeiffer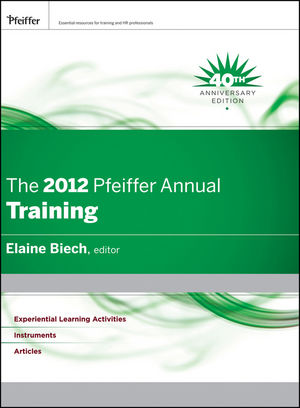 Successful trainers stay at the top of their profession by accessing the most recent and important information, tools, and resources in the field. The 2012 Pfeiffer Annual: Training offers a hands-on guide to the latest thinking and recent approaches to training and development. It is divided into four sections: Experiential Learning Activities (ELAs); Editor's Choice; Inventories, Questionnaires, and Surveys; and Articles and Discussion Resources. Built around the theme of "organizational dynamics," this year's Annual addresses the many factors that affect how well the people and process react when brought together and how they function as a singular entity to accomplish a task.
See More
Website Contents xiii
Preface xvii
The Difference Between Training and Consulting: Which Annual to Use? xxiii
Introduction to The 2012 Pfeiffer Annual: Training xxvii
Experiential Learning Activities
Introduction to the Experiential Learning Activities Section 1
Experiential Learning Activities Categories 5
Are You Aware? Forming Impressions 15
K.M. Tripathi, Rajinder Kaur Sokhi, and Mitu Mandal
Twenty-Five Ways to Include Others: Taking Action 19
Julie O'Mara
Barnyard Basics: Avoiding Communication Foibles 27
M.K. Key and Brenda Barker
Number Recall: Positioning Emphasis for Influence 31
Paul H. Pietri and Teresa G. Weldy
Practice Role Play: Experiencing Emotional Intelligence 35
Shri S.S. Roy
I See What You Mean: Sending and Receiving Messages 51
Sharon Dera
†Who's in Control? Exploring an Emotional Intelligence Competency 55
Dennis E. Gilbert
Logos for You: Understanding Different Perspectives 63
David Piltz
Rough Day @ Work: Resolving Conflict Through an Online Simulation 67
Noam Ebner and Yael Efron
**Pair/Share: Identifying Triggers to Negative Emotions 77
Lou Russell
Cheering a Community: Opening with Energy 81
Robert Alan Black
Subject-Matter Expert: Learning Factual Material 83
Linda M. Raudenbush
Crossword Conundrum: Reviewing Concepts 87
Margie Parikh
**Role Montage: Discovering Leadership Influencers 93
Jan M. Schmuckler
The Fugitive: Assessing the Style of a Leader 101
Guido R. Britez
Values in Leadership: Understanding the True Drivers 105
Mohandas Nair
Editor's Choice
Introduction to the Editor's Choice Section 113
Playing to Learn: Engaging Learners with Frame Games 115
Steve Sugar, Gregory R. Williams, and Linda M. Raudenbush
Preparing Participants to Get the Most from Experiential Learning 121
Philip Donnison
Inventories, Questionnaires, and Surveys
Introduction to the Inventories, Questionnaires, and Surveys Section 125
Three-Dimensional Emotional Competence Inventory (3D-ECI) 127
Sethu Madhavan Puravangara
Classroom Instructor Skills Survey 147
Jean Barbazette
Institutional Climate Survey 161
K.S. Gupta
Articles and Discussion Resources
Introduction to the Articles and Discussion Resources Section 171
**One-Minute Learning Through Reflective Practice 173
Homer H. Johnson and Anne H. Reilly
**Questioning the Teachable Moment 183
Brittany Ashby
† **Opportunities and Risks of Incorporating User-Created Content in an Organizational Training Strategy 189
Christine Hipple and Zane L. Berge
Building Bridges Between Psychology and Conflict Resolution: Implications for Mediator Learning 199
Kenneth Cloke
How to Avoid Change Management Workshops That Fail 213
Rick Maurer
Mistakes That Trainers Make—And How to Avoid Them 217
Deborah Spring Laurel
†**Adopting a Learning Continuum: The Urgency to Reinvent Training Organizations 225
Gary G. Wise
Strategies and Technologies for Posting Training Presentations Online 247
Tom Bunzel
Online Learning 101: Using a Framework to Consider and Select e-Learning Tools 267
Susan Landay
**Using Playbooks: A Unique Strategy in Technical Oversight of Highly Hazardous Operations 281
James L. Gary and Michele L. Summers
Facilitating in the Virtual Classroom: How to Compensate for the Lack of Body Language 295
Darlene B. Christopher
**The Story of the Kirkpatrick Four Levels: Evaluating in the Moment 301
Don Kirkpatrick with Elaine Biech
Contributors 307
Contents of the Companion Volume, 313
The 2012 Pfeiffer Annual: Consulting
Pfeiffer Publications Guide 317
†Cutting-Edge Topics
**Learning in the Moment Topics
See More
Elaine Biech is president and managing principal of ebb associates inc, a strategic implementation, leadership development, and experiential learning consulting firm. She is the author and editor of over four dozen books including The Book of Road-Tested Activities and Training for Dummies. She is also a recipient of the Gordon M. Bliss Award, the highest honor bestowed by ASTD (American Society of Training and Development).
See More