The Big Lebowski and Philosophy: Keeping Your Mind Limber with Abiding Wisdom
ISBN: 978-1-118-07456-5
304 pages
May 2012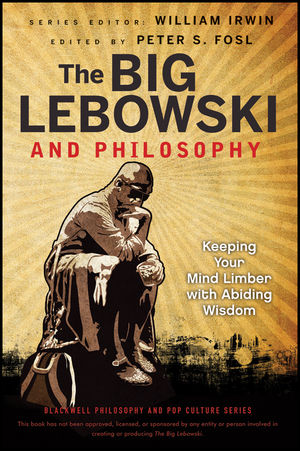 Celebrate the Dude with an abiding look at the philosophy behind The Big Lebowski
Is the Dude a bowling-loving stoner or a philosophical genius living the good life? Naturally, it's the latter, and The Big Lebowski and Philosophy explains why. Enlisting the help of great thinkers like Plato and Nietzsche, the book explores the movie's hidden philosophical layers, cultural reflection, and political commentary. It also answers key questions, including: The Dude abides, but is abiding a virtue? Is the Dude an Americanized version of the Taoist way of life? How does The Big Lebowski illustrate the Just War Theory? How does bowling help Donny, Walter, and the Dude oppose nihilism? Yes, the Dude is deep, and so is this book. Don't watch the movie—or go to Lebowski Fest—without it.
Explores many of The Big Lebowski's key themes, such as nihilism, war and politics, money and materialism, idealism and morality, history, and more
Gives you new perspective on the movie's characters—the Dude, the Big Lebowski, Walter Sobchak, Donny, Maude Lebowski, Bunny Lebowski, and others
Helps you appreciate the Coen Brothers classic even more with the insights of Aristotle, Epicurus, Kant, Derrida, and other philosophical heavyweights
See More
ACKNOWLEDGMENTS: Thanks to Some Real Achievers xi
Introduction: Sometimes There's a Film 1
PART ONE FIRST ROUND ROBIN: TYING IT ALL TOGETHER, OR NOT
1. What Would the Dude Do? Deconstructing the Dude 7
Joseph A. Zeccardi and Hilda H. Ma
2. The Big Lebowski and Mathematical Logic 24
Craig Jackson
PART TWO SECOND ROUND ROBIN: THOUSANDS OF YEARS OF PHILOSOPHICAL TRADITION, OR FROM SOCRATES TO SANDY KOUFAX
3. The Dude Abides, but Does He Flourish? 39
Jason T. Eberl
4. "Man Down!": Aristotle, Epicurus, and the Dude on Friendship and Solidarity 55
Ian O'Loughlin
5. Epicurus and "Contented Poverty": The Big Lebowski as Epicurean Parable 67
Morgan Rempel
6. Buddhism, Daoism, and Dudeism 79
Joseph J. Lynch
PART THREE THIRD ROUND ROBIN: OVER THE LINE!
7. Drawing a Line in the Sand: Rules of Aggression in The Big Lebowski 93
David Svolba and Adam Betz
8. "That Ain't Legal Either": Rules, Virtue, and Authenticity in The Big Lebowski 106
Troy Jollimore and Robert C. Jones
PART FOUR FOURTH ROUND ROBIN: NOTHING TO BE AFRAID OF
9. Bowling Our Way out of Nihilism 123
Jeffery Nicholas
10. Existentialism, Absurdity, and The Big Lebowski 136
Bryan N. Baird
11. Bowling, Despair, and American Nihilism 147
Evan Brown and Peter S. Fosl
PART FIVE FIFTH ROUND ROBIN: WHAT MAKES A DUDE?
12. The Big Lebowski's Oedipal Complex 161
Roger Hunt
13. In the Dude, I Abide: Being an Achiever at Lebowski Fest 174
Julie Dufort and Roseline Lemire-Cadieux
14. "Mr. Treehorn Treats Objects Like Women, Man": The Dude as Feminist Ally 190
Ben Almassi
15. "Well, I Do Work, Sir": The Dude and the Value of Sloth 207
Nicolas Michaud
PART SIX SIXTH ROUND ROBIN: MARK IT ZERO!
16. "Am I Wrong?": Walter's Will to Believe 221
Daniel P. Malloy
17. "That's Just Like, Uh, Your Opinion, Man": Jesus, the Dude, and Ordinary Language Philosophy 237
Reuben Stern and Sam Wilkinson
PART SEVEN SEVENTH ROUND ROBIN: LIVIN' IN THE PAST
18. Hippies, Jews, and the Philosophy of Memory 251
Clancy Smith
19. "I Don't Roll on Shabbas!": Jewish Identity and the Meaning of History in The Big Lebowski 262
Joseph A. Edelheit
CONTRIBUTORS: The Rest of the Dude's Bowling Team 275
INDEX: Little of This, Little of That 283
See More
Peter S. Fosl is chair of the philosophy program at Transylvania University. Coauthor of The Philosopher's Toolkit, he has contributed to Metallica and Philosophy, Ultimate Lost and Philosophy, Terminator and Philosophy, Heroes and Philosophy, and Twilight and Philosophy. Visit www.PeterFosl.us for more information.
William Irwin is a professor of philosophy at King's College in Wilkes-Barre, Pennsylvania. He originated the philosophy and popular culture genre of books as coeditor of the bestselling The Simpsons and Philosophy and has overseen recent titles including House and Philosophy, Alice in Wonderland and Philosophy, and Inception and Philosophy.
See More
More in this series