E-book
Managing Online Instructor Workload: Strategies for Finding Balance and Success
ISBN: 978-1-118-07555-5
176 pages
June 2011, Jossey-Bass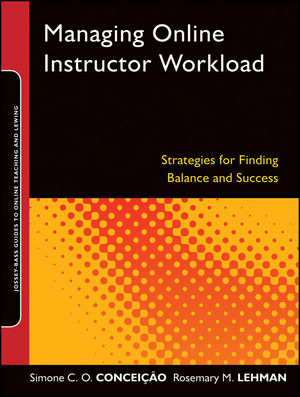 Managing Online Instructor Workload is a groundbreaking book that offers strategies, advice, illustrative examples, and a four-step process for identifying challenges and rethinking, prioritizing, managing, and balancing one's online instruction workload.
Based on surveys and interviews with successful online instructors, the book is filled with timely and comprehensive insight that is essential for online instructors, instructional designers, faculty developers, and anyone who wants to succeed in online learning.
Praise for Managing Online Instructor Workload
"Managing Online Instructor Workload breaks the pattern of prior distance learning books with its research-based orientation by including a broad range of experience. This is a valuable resource to encourage greater faculty persistence and adoption."—Kathleen P. King, professor of higher education, University of South Florida, Tampa
"This is a must-read for all online instructors who strive not only to provide a high-quality learning experience for their students but also maintain a quality life of their own!"—Rita-Marie Conrad, online educator and author
"Do you teach online? Do you need sleep? Here is the first book that I know of that will allow you to do both?no more endless hours wasted online attempting to be an effective instructor."—Curtis J. Bonk, professor, Indiana University
See More
List of Tables.
Preface.
About the Authors.
One Issues and Challenges When Teaching Online.
Institutional Issues and Challenges.
Instructional Issues and Challenges.
Our Study on Instructor Workload When Teaching Online.
Summary.
Two Instructors' Stories for Balancing Workload.
Co-Teaching as a Strategy for Balancing Workload.
Planning Ahead as a Way to Predict Workload.
Giving Individual Feedback as a Workload Management Strategy.
Managing Time, Rather Than Time Managing You.
Blocking Out Time for the Online Course.
Teaching Online During Short Terms.
Using Time Allocation Strategies When Teaching for Multiple Institutions.
Teaching Online Exclusively from Home.
Managing Workload Based on Years of Experience.
Teaching Online for a Variety of Institutions.
Cohort Program as a Time-Saver.
Managing Similar Tasks When Designing for Multiple Courses.
Teaching a Recurring Mixed-Mode Online Course.
Managing Workload When Current Information Drives Content.
Summary.
Three Looking at Workload from a Design Perspective.
Identifying Course Tasks.
Why It Is Important to Use an Instructional Design Process.
Design Framework for Creating a Sense of Presence.
Using a Template to Manage Tasks and Prioritize Time.
Summary.
Four Managing Tasks and Prioritizing Time.
Creating a New Online Course.
Converting a Face-to-Face Course.
Revising an Existing Online Course.
Summary.
Five Using Workload Strategies for Maintaining Quality of Life.
Design Strategies.
Support Strategies.
Teaching Strategies.
Time Allocation Strategies.
Summary.
Six Final Thoughts and Practical Implications for Balancing Workload.
Teaching from an Open Perspective.
Adapting the Course Design.
Modifying Workload Strategies.
Rethinking How to Prioritize Time and Manage Workload.
Practical Implications for Balancing Workload.
Glossary.
References.
Index.
See More
Simone C. O. ConceiÇão is an associate professor in the School of Education, Department of Administrative Leadership at University of Wisconsin-Milwaukee. She is the editor of Teaching Strategies in the Online Environment and coauthor of Creating a Sense of Presence in Online Teaching both from Jossey-Bass.
Rosemary M. Lehman is an author and consultant for eInterface with more than 20 years of experience as a learning design and distance education training specialist at University of Wisconsin-Extension. She is coauthor of Creating a Sense of Presence in Online Teaching from Jossey-Bass.
See More
Learn more about