52 Ways to Wreck Your Retirement: ...And How to Rescue It
ISBN: 978-1-118-07609-5
320 pages
October 2011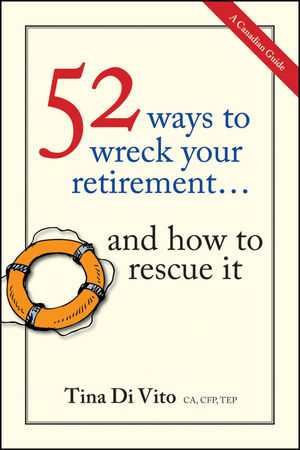 Retirement planning isn't something that happens at a specific point in time or at a specific age - we are all affecting our retirement plans every day with every decision we do or don't make. Canadians are living longer, and the average retiree in the future may have as much as 30 years of retirement to plan for, and there are many simple things that will impact our eventual retirement life.
52 Ways to Wreck Your Retirement identifies 52 things we do that could wreck our retirement, explains why it puts your retirement at risk, and provides the strategy to correct the mistake, or better still, avoid it entirely. The book is organized under several key areas of the planning process, including:
Starting to Plan for Retirement
Mistakes around Investing
Mistakes around Debt
Saving for Retirement
Pensions
Living in Retirement
Spending in Retirement
New Realities about Retirement
52 Ways to Wreck Your Retirement is not a feel-good book about how wonderful retirement will be or an alarming fear-mongering book about dying broke, nor is it a get-rich-late-retirement solution. Quite simply, it is an easily-accessible and practical guide written for Canadians of all ages that gives you the tools you need to better manage the financial and personal aspects of your retirement.
See More
Introduction 1
PART 1: STARTING TO PLAN FOR RETIREMENT 5
1. Thinking You Have a Retirement Plan When You Don't 7
2. Being Fooled by Feeling and Looking Younger than You Are 12
3. Not Using Your Common Sense 16
4. Living for Today Rather than Saving for Tomorrow 20
5. Not Paying Attention to What's in All Your Statements 24
6. Not Knowing Where You Stand 29
7. Not Knowing Where Your Money Is Going 33
PART 2: MISTAKES AROUND INVESTING 39
8. Not Knowing How Your Money Is Invested 41
9. Not Knowing How Much Risk You Can Tolerate 48
10. Th inking You'd Rather Be Safe than Sorry 52
11. Putting All Your Eggs in One Basket 57
12. Th inking That Retiring Means You Stop Investing 61
13. Watching Your Investments Too Closely 64
14. Looking for Th at Magic Pill to Boost Your Savings 68
PART 3: MISTAKES AROUND DEBT 73
15. Th inking Th at All Debt Is Created Equal 75
16. Taking Too Long to Pay Off Your Mortgage 82
17. Misuse of Credit Cards 89
PART 4: SAVING FOR RETIREMENT 95
18. Leaving Too Much Free Money on the Table 97
19. Ignoring the Eff ects of Infl ation 102
20. Feeling Th at There' s No Way You Can Ever Save Enough 108
PART 5: PENSIONS 113
21. Overestimating CPP/QPP Pensions 115
22. Th inking You're Entitled to the Maximum Old Age Security (OAS) Pension 122
23. Relying Too Heavily on Your Company Pension 126
24. Making the Wrong Choices with Your Defined Benefi t Pension on Retirement 132
25. Not Considering All the Maturity Options for a Registered Retirement Savings Plan 138
PART 6: LIVING IN RETIREMENT 147
26. Making Too Many Big Changes to Your Life as Soon as You Retire 149
27. Fearing Retirement 154
28. Failing to Talk to Your Partner or Others About Retirement 159
29. Retiring Outside the Country Without First Doing Your Homework 163
30. Downsizing the Family Home Too Late 169
31. Not Doing Some Research Before Starting a Business in Retirement 174
PART 7: SPENDING IN RETIREMENT 179
32. Spending Too Much Money Too Early in Retirement 181
33. Giving Away Too Much Money During Your Life 185
34. Being Afraid to Spend Your Savings 189
PART 8: PAYING TOO MUCH TAX 195
35. Wanting to Keep the Money All to Yourself 197
36. Giving Back Your OAS 205
37. Not Taking Advantage of Tax Gift s Such As the Tax Free Savings Account 210
38. Failing to Plan for U.S. Estate Taxes 215
39. Paying Too Much Tax on Investments 220
PART 9: NEW REALITIES ABOUT RETIREMENT 225
40. Not Being Prepared to Be Single in Retirement 227
41. Believing in Freedom 55 232
42. Believing Th at You Have Only One Retirement Date 236
43. Th inking Retirement Is All About You 241
PART 10: PROTECTION PLANNING 247
44. Not Protecting Your Most Important Asset — You! 249
45. Bad Decisions Around Joint Accounts 254
46. Th inking Your Family Can Automatically Make Decisions for You When You Can't 258
47. Avoiding Estate Planning 262
48. Choosing the Wrong Benefi ciary for Your RRSP, RRIF, or TFSA 267
49. Sharing Too Much Personal and Financial Information 274
PART 11: NOT ASKING FOR HELP 279
50. Not Doing the Math: Mortgage Versus RRSP Versus TFSA 281
51. Wanting to Do It All Yourself 285
52. Substituting a Retirement Calculator for Retirement Advice 292
Acknowledgements 297
About the Author 299
Index 301
See More
TINA DI VITO is a Chartered Accountant (CA), Certified Financial Planner (CFP) and Trust and Estate Practitioner (TEP), and Fellow of FPSC. She is a member of the Canadian Tax Foundation, Women in Capital Markets, and the Institute of Chartered Accountants of Ontario.  With more than 20 years of experience helping Canadians plan for and live in retirement, Tina has worked with families and small business owners and runs workshops and seminars for Canadians of all levels of prosperity. She is a sought-after speaker and is widely quoted in national and  international media such as the Globe and Mail, the Financial Post, the Toronto Star, the Wall Street Journal and has been on Canada AM, Global Television, BNN, and CNBC. She has also been consulted by Canadian Parliamentary committees as an expert on a variety of wealth-management topics. She volunteers her time and financial expertise to the National Initiative for the Care of the Elderly (NICE) to help bring financial literacy to older Canadians. She has lead research resulting in the creation of industry-leading, white paper reports on retirement and estate and tax planning issues facing Canadians.
See More