E-book
Creative Black and White: Digital Photography Tips and Techniques
ISBN: 978-1-118-07614-9
240 pages
February 2011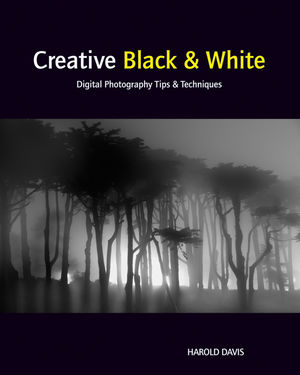 Learn how breaking photographic rules can result in stunning black-and-white photos
Black-and-white photography poses unique challenges; without color to guide the eye, contrast, lighting, and composition take on even more importance. Renowned photographer Harold Davis explains these elements and demonstrates the basic rules of black and white photography as well as when and how to break them. He breaks through the complexity of this photographic medium, explores opportunities for black-and-white imagery, and shows how to capitalize on every one.
Richly illustrated with the author's own images, this beautiful guide presents the skills needed for great black-and-white photos while encouraging your confidence and creativity.
Goes beyond basics to teach photographers how to conquer the challenges posed by black-and-white photography
Appeals to professionals and serious amateurs who are interested in exploring creative black-and-white imagery
Presents photography fundamentals and shows how black and white requires some of the rules to be bent
Encourages creative thinking and confidence
Lavishly illustrated with Harold Davis's outstanding monochromatic photos
Whether you're a professional just venturing into black and white or a serious amateur, Creative Black & White will both educate and inspire you.
See More
Introduction.
The Monochromatic Vision.
Past, Present, and Future
Thinking in Black and White
Contrast
Color Implied
The Tonal Landscape
Visual Implication
Seeing in Black and White
Pre-Visualization Techniques
Black and White Composition
Framing
Patterns and Lines
Shape and Form
High Key
Low Key
Shades of Gray
Finding Monochromatic Subjects
Black and White at Night
Portraits in Black and White
Black and White in the Digital Era.
Digital Black and White Roadmap
The RAW Advantage
Black and White in Adobe Camera RAW
Black and White in Lightroom
Grayscale Conversion Using Presets
HSL Conversion
Exposure Gradients and Adjustments
Exporting Virtual Copies into Photoshop as Layers
Multiple Layers and Masking in Photoshop
Multi-RAW Processing in Photoshop
Black and White in Photoshop
Blending with Black
Using the Channel Mixer
Black & White Adjustment Layers
Silver Efex Pro
Combining Conversions in Photoshop
Creative Black and White Opportunities.
Lighting and Monochromatic Photos
Creating High-Key Effects
Creating Low-Key Effects
HDR in Black and White
Shooting for HDR
Using Photomatix
Toning and Tinting
Tinting with a Black & White Adjustment Layer
Split Toning
Selective Color
Hand Coloring
Using LAB Color
Inverting the L Channel
Equalizing LAB Channels
Swapping Tonalities
Using Blending Modes
Soft Focus
Adding Soft Focus
Pinhole Effect
Solarization
Using Curves to Solarize an Image
Duotone and Tritone Effects
Adding and Reducing Noise
Film Effects
Infrared Camera Conversions
Infrared Conversion without an IR Camera
Notes and Resources.
Glossary.
Index.
See More
Harold Davis is an award-winning professional photographer. He is the author of more than 30 books, including Creative Composition: Digital Photography Tips & Techniques, Creative Close-Ups: Digital Photography Tips & Techniques, The Photoshop Darkroom: Creative Digital Post-Processing, and Practical Artistry: Light & Exposure for Digital Photographers. Harold writes the popular Photoblog 2.0, www.photoblog2.com.
See More