Managing Health Programs and Projects
ISBN: 978-1-118-07653-8
320 pages
January 2011, Jossey-Bass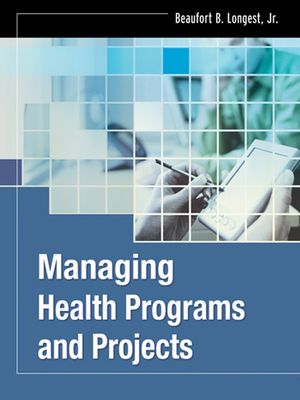 This essential resource shows how to effectively organize, implement, and evaluate health programs and projects. Managing Health Programs and Projects clearly defines and describes the work of managers in health programs and projects. The book explores the decision-making process, defines the process of communicating, probes the fundamentals of program planning, explains budgeting, covers staffing for programs and projects, and explains how leaders motivate participants in health programs and projects.
See More
Figures, Tables, and Exhibits xi
Preface xv
The Author xxi
1 Management Work 1
Health and Health Determinants 3
Health Programs and Projects as Logic Models and as Organizations 3
Program and Project Management 8
The Work of Managers: Activities and Roles 8
Managing Programs and Projects Ethically 24
Managers and the Success of Programs and Projects 30
Summary 31
Chapter Review Questions 33
Appendix A: Example of a Health Program 34
Connecting Lifestyle and Health: A Grassroots Program Reaches Out to a Specific Community Group
Appendix B: Example of a Health Project 37
National Standards for Culturally and Linguistically Appropriate Services in Health Care
2 Strategizing the Future 39
Conducting a Situational Analysis 41
Reconsidering and Revising the Logic Model 50
Developing Operational Plans to Accomplish Desired Results 53
Assessing Progress and Controlling Performance 56
The Link Between Strategizing and the Performance of Programs and Projects 63
Business Plans 64
Planning for Interventions Undertaken by Programs and Projects 66
Summary 72
Chapter Review Questions 74
3 Designing for Effectiveness 75
Designing Logic Models 76
Designing the Processes Component of Logic Models 82
Creating Organization Designs 84
Key Concepts in Organization Design 84
Application of the Key Organization Design Concepts 99
Informal Aspects of Organization Designs 104
Summary 108
Chapter Review Questions 110
4 Leading to Accomplish Desired Results 111
Motivation at Work 112
Influence and Leading, Interpersonal Power and Influence 128
The Ongoing Search to Understand Effective Leading 131
Toward an Integrative Approach to Effective Leading 140
Summary 143
Chapter Review Questions 144
5 Making Good Management Decisions 145
Decision Making Defined 146
Involving Other Participants in Decision Making 147
Characteristics of Management Decisions in Programs and Projects 150
The Decision-Making Process 152
Summary 182
Chapter Review Questions 183
6 Communicating for Understanding 184
Communicating: Key to Effective Stakeholder Relations 185
A Model of the Communicating Process 189
Barriers to Communicating Effectively 192
Communicating within Programs and Projects 197
Communicating with External Stakeholders 202
Communicating When Something Goes Wrong 209
Summary 214
Chapter Review Questions 215
See More
Beaufort B. Longest Jr. is M. Allen Pond Professor of Health Policy and Management in the Department of Health Policy and Management in the Graduate School of Public Health at the University of Pittsburgh. He also holds a secondary appointment as professor of business administration in the Katz Graduate School of Business, and is director of the University of Pittsburgh's Health Policy Institute.
See More
Learn more about