Fundraising and the Next Generation: Tools for Engaging the Next Generation of Philanthropists, + Website
ISBN: 978-1-118-07702-3
304 pages
March 2012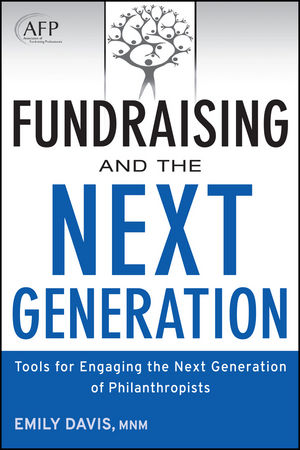 Step-by-step guidance to key fundraising methods to attract, engage, and retain donors of all ages
Fundraising and the Next Generation brings readers up to date on cases, research, opportunities, and challenges regarding philanthropy's next generation. Readers will learn practical strategies for cultivation, solicitation, and stewardship of Gen X and Y philanthropists using new technologies and traditional tools. Fundraising and the Next Generation covers the behaviors, key characteristics, and approaches for working with philanthropists under the age of forty. In addition, other age cohorts will be discussed to provide perspective, comparison, and related strategies.
Includes step-by-step tools for setting up next gen technology in your organization and engaging Gen X and Y as donors
Features a glossary of social media terms, a list of academic resources for development and professional advancement, and an assessment toolkit
Defines the key characteristics of the four current generations, their habits for charitable giving, and how every development office can successfully engage them in philanthropy
Provides a website with additional information beyond the book
Savvy fundraising leaders understand that successful and sustained philanthropy is not just an issue for today. Long-term planning and diversified strategies allow fundraisers to access every prospective contribution possible. Timely and relevant, Fundraising and the Next Generation brings readers up to date on cases, research, opportunities, and challenges regarding philanthropy's next generation.
See More
Acknowledgments xv
CHAPTER 1 Introduction 1
Embracing New Approaches 1
How This Book Is Organized 3
Getting Started 6
CHAPTER 2 Generations in Philanthropy 7
Setting the Stage 7
Defining the Generations 8
Leading Multigen Fundraising Efforts 16
Conclusion 37
Notes 40
CHAPTER 3 Engaging Philanthropy's Next Generation 43
The Opportunities of Seeking Funds from Young Philanthropists 43
Cultivating the Next Generation of Donors 45
Relationships Don't Change 60
Conclusion 63
Notes 70
CHAPTER 4 Volunteering Is Philanthropy 73
Creating Volunteer Opportunities Increases Prospective Donors 74
Committee Participation 80
Board Service 82
Conclusion 92
Notes 93
CHAPTER 5 The Next Generation of Grant Makers 95
Investing in Professional Development 96
Networking Resources 100
How Social Media Changes Grant Making 101
Understanding Family Philanthropy 102
What Nonprofits Can Do 113
Notes 115
CHAPTER 6 Harnessing the Power of Online Communications 117
Going Where the Givers Are 117
Social Media Is a Tool, Not the Tool 119
Listen to Your Fans and Followers 120
Social Media Is a Plant 122
Social Media Is Stewardship 123
Adding Value through Social Media 124
Social Media Is a Two-Way Street 124
Not Everyone ''Diggs'' Social Media 125
It Ain't Free 126
Build a Social Media Plan 126
Implementing the Social Media Plan 129
Evaluating Social Media Strategies 135
Social Media Policies 135
Conclusion 138
Notes 139
CHAPTER 7 Conclusion 141
Where to Go from Here 141
Becoming a Learning Organization 143
APPENDIX A Worksheets, Plans, and Templates 145
Fundraising and the Next Generation Worksheet 146
Organizational Readiness Assessment 148
Stewardship Plan Worksheet 155
Sample Memorandum of Understanding (MOU) 160
Sample Board Recruitment Plan 162
Social Media Plan Worksheet 165
Social Media Plan Outline 167
Blog Post Template 171
Notes 172
APPENDIX B Selected Interviews 173
Next Gen Philanthropist: Mike Gast, Resource Generation 174
Next Gen Grant Maker: Jason Franklin, Bolder Giving 179
Multigen Family Philanthropy: Sharna Goldseker, 21/64 184
Family Philanthropy Consultant: Lisa Parker, Family Circle Advisors 190
Family Foundation: Mary Galeti, The Tecovas Foundation 193
Giving Circles: Alan Frosh, The Gordian Fund 196
Giving Tiers: Jennie Arbogash, Social Venture Partners of Boulder County 202
Notes 206
APPENDIX C Survey Summaries 207
Multigenerational Development Office Survey Results 208
Philanthropy's Next Generation Survey Results 230
About the Author 289
Index 291
See More
EMILY DAVIS has been working in the non-profit sector as an executive director, staff member, consultant, founder, board member, and volunteer for over fifteen years. She currently serves as the President of EDA Consulting in addition to many board and advisory roles in Colorado as well as nationally. She trains and consults on a number of different areas including board development, online communications, multigenerational philanthropy, and fundraising. Her passion for effective leadership has garnered numerous awards and nominations. Emily received her master's in nonprofit management from Regis University.
See More
More in this series