Catholicism For Dummies, 2nd Edition
ISBN: 978-1-118-07778-8
432 pages
November 2011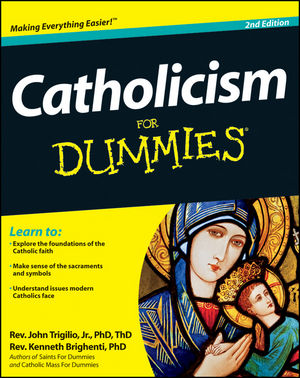 The easy way to grasp the ins and outs of Catholicism
Catholicism For Dummies is not a catechism or religious textbook, but a casual, down-to-earth introduction for Catholics and non-Catholics. It gives commonsense explanations of Catholic weddings, Baptisms, funerals, Confirmations, and First Communions. You'll also discover other important topics that can help you better understand the Catholic culture—from morality and devotions to worship and liturgy.
There are more than one billion Catholics in the world, and each one shares a foundational set of basic beliefs and practices that he or she follows. Some of the teachings of Catholicism are thousands of years old, while others are more recent. So what is the Catholic culture like and what do they believe? Catholicism For Dummies answers these and many other questions.
Various stances within American Catholicism today
Covers the death of John Paul II and the succession of Pope Benedict XVI, who has supported the return of the Latin Mass among congregations who desire to celebrate it
Expanded information on baptism, confirmation, and the other sacraments
New information about the priesthood and religious life today
Twenty-first-century issues and questions modern Catholics face, including gay marriage, abortion, and the death penalty
Catholicism For Dummies presents a rich tapestry and history of the Catholic faith—from devotions to doctrines. This intelligent and faithful look at Catholicism will open your eyes to this religion and answer many of the questions you may have about it.
See More
Introduction 1
Part I: What Do Catholics Believe? 7
Chapter 1: What It Means to Be Catholic 9
Chapter 2: Having Faith in God's Revealed Word 21
Chapter 3: In the Beginning: Catholic Teachings on Creation and Original Sin 37
Chapter 4: Believing in Jesus 47
Chapter 5: Defi ning "The Church" and What Membership Means 65
Chapter 6: Who's Who in the Catholic Church 73
Part II: Celebrating the Mysteries of Faith 95
Chapter 7: Body and Soul: Worshipping Catholic Style 97
Chapter 8: Entering the Church: Baptism, Communion, and Confi rmation 107
Chapter 9: The Sacraments of Service and Healing 125
Chapter 10: Celebrating the Catholic Mass 145
Part III: Living a Saintly Life 173
Chapter 11: Obeying the Rules: Catholic Law 175
Chapter 12: Loving and Honoring: The Ten Commandments 187
Chapter 13: Being Good When Sinning Is So Easy 203
Chapter 14: Standing Firm: The Church's Stance on Some Sticky Issues 219
Part IV: Praying and Using Devotions 245
Chapter 15: Growing in the Faith 247
Chapter 16: Showing Your Love for God 261
Chapter 17: Expressing Affection for Mary 275
Chapter 18: Honoring the Catholic Saints 291
Chapter 19: Practicing Catholic Traditions 311
Part V: The Part of Tens 329
Chapter 20: Ten Famous Catholics 331
Chapter 21: Ten (Plus One) Popular Catholic Saints 341
Chapter 22: Ten Popular Catholic Places 351
Part VI: Appendixes 361
Appendix A: A Brief History of Catholicism 363
Appendix B: Popular Catholic Prayers 391
Index 399
See More
Rev. John Trigilio, Jr.
, PhD, ThD, is President of the Confraternity of Catholic Clergy and co-hosts with Fr. Brighenti several programs on the Eternal Word Television Network.
Rev. Kenneth Brighenti, PhD, is a member of the Board of Directors for the Confraternity of Catholic Clergy and was a U.S. Naval Reserve Chaplain.
See More
Buy Both and Save 25%!
Catholicism For Dummies, 2nd Edition (US $22.99)
-and- Catholic Mass For Dummies (US $16.99)
Total List Price: US $39.98
Discounted Price: US $29.98 (Save: US $10.00)
Cannot be combined with any other offers. Learn more.