E-book
The Future of Value: How Sustainability Creates Value Through Competitive Differentiation
ISBN: 978-1-118-07825-9
224 pages
August 2011, Jossey-Bass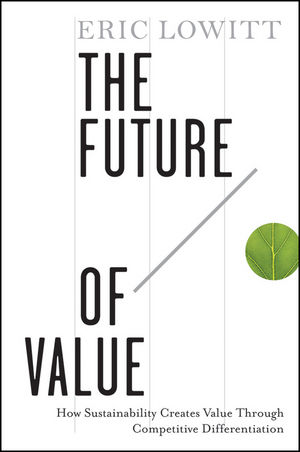 Enhance business performance by using sustainability for competitive advantage
The Future of Value reveals what it takes for companies to grow and outperform the competition in today's growth-constrained, sustainability conscious world. The author shows leaders how to use sustainability as a powerful, pragmatic lens to enhance business performance. He also explores how to craft and oversee a portfolio of effective tools, develop competitive strategies, and adjust value chain activities, talent management practices, and corporate policies to help organizations execute powerful sustainability strategies.
He provides a systematic, yet instantly familiar, model all companies can use to connect sustainability with their growth and competitive strategies. In this way, the author shows leaders how to shape, color, and own The Future of Value.
Outlines the keys to implementing sustainability in organizations to achieve business success today and tomorrow
Reveals how to engage stakeholders in day to day sustainability management as a means to shape and fuel efforts to continuously renew their sustainability strategies
The author is a 15-year veteran of sustainability and strategy management consulting, having worked with clients in the US, Japan, Australia, and Europe. He has an MBA in Strategic Management from The University of Pennsylvania's Wharton School and writes a regular column for Sustainable Life Media and GreenBiz, two of the world's most heavily trafficked sustainability news and thought leadership portals
The author draws useful and accessible conclusions from a rich, diverse set of corporate interviewees. A core part of his research was the selection and interrogation of more than 25 Global Fortune 500 companies' sustainability, strategy, and finance leads.
See More
Foreword by William Sarni ix
Preface xiii
Acknowledgments xvii
About the Author xxi
Introduction 1
Part One: How Sustainability Creates Value 17
1. Sustainable Companies Are Market Leaders 19
2. Sustainable Market Leaders Compete on Sustainability 31
3. Competing on Sustainability Creates Value 51
Part Two: How to Create Value in Your Organization 83
4. Crafting Sustainability Strategy 85
5. Leading Strategy and Management Efforts 113
6. Embedding Sustainability into the Value Chain 141
7. Analyzing and Communicating Performance 177
8. Renewing Sustainability Efforts 195
9. Keeping Sustainable and Agile 209
Appendix A: Research Methodology 221
Appendix B: Interviewees 225
Appendix C: Interview Protocol 227
Notes 229
Index 237
See More
Eric Lowitt is a strategy and sustainability consultant and speaker with fifteen years of management consulting and strategy experience in companies such as Accenture, Deloitte Consulting, and Fidelity Investments. He is author of numerous articles about sustainability, strategy, and value creation and has been published in mainstream and practition-er journals, including Forbes, Reuters, and Business Strategy Review. He writes a regular column for both GreenBiz and Sustainable Life Media and blogs at his website, www.EricLowitt.com.
See More